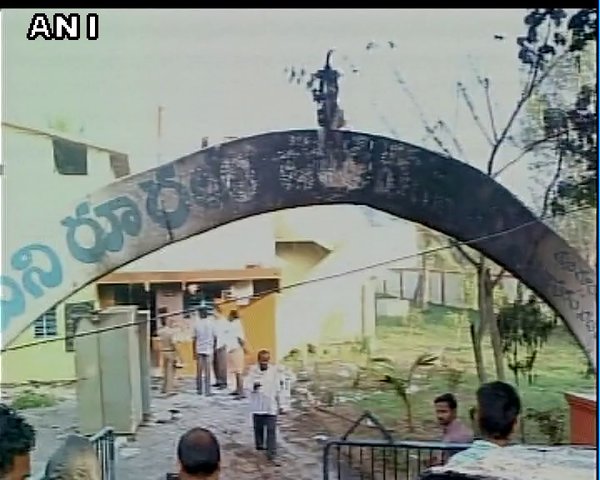 A day after violent protests struck East Godavari District of Andhra Pradesh, Kapu community has called off its agitation over the demand for reservation under Backward Class category following assurances from Chief Minister Chandrababu Naidu. Ex-MP of Kakinada (AP) Mudragada Padmanabham calls off road block in Tuni till 4 pm today.
Read More: Train, police station set ablaze as Kapu demand for reservations heat up in AP
However, leaders from the opposition parties kept up the attack on Monday. They cornered Chief Minister Chandrababu Naidu over the violent protests by the Kapu community, saying that the latter must fulfill promise made to the community prior to polls.
YSR Congress Party leader Goutham Reddy accused Naidu of turning back on his promise and described the prevailing situation as 'failure of the government'.
Kapu Community's protest is a revolt against the government because Chandra Babu Naidu had promised them earlier, before the elections, that he will give reservation to Kapus. It has been two-and-a-half years now, so that is why they have revolted. The is the failure of the government, this the failure of Chandrababu Naidu
Meanwhile, CPM leader Baburao alleged Naidu of neglecting the Kapu community after polls.
"At time of elections, assurances were given but after elections communities were neglected and forgotten," he said.
Protesters from Kapu community, who are demanding inclusion of their caste into the backward class, set a police station on fire in Tuni city of Andhra Pradesh's East Godavari district yesterday night.
Kapu community protesters set a train on fire in Tuni (AP) last night (morning visuals) pic.twitter.com/bhAxbjdRVA

- ANI (@ANI_news) February 1, 2016
The protestors also burnt two coaches of Ratnachal Express yesterday, which led to disruption in train services on the route.
Kapu community protesters set a train on fire in Tuni (AP) last night (morning visuals) pic.twitter.com/bhAxbjdRVA

- ANI (@ANI_news) February 1, 2016
Chief Minister Naidu held an emergency meeting with senior officials in Vijayawada last night to discuss the stir which turned violent injuring 15 police officials and five others. (With inputs from ANI)