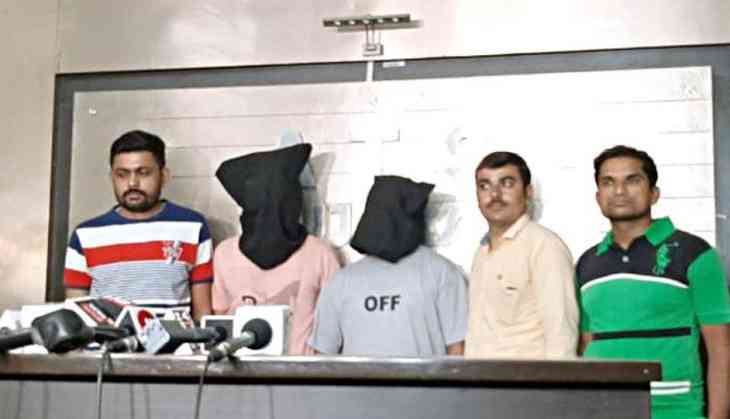 Kamlesh Tiwari murder case
Almost week after the murder of Kamlesh Tiwari in Lucknow, the Gujarat police apprehended two alleged killers on Tuesday from near the state's border with Rajasthan. This takes the total number of people arrested to six.
As per the police, the accused Ashfaq Hussain and Moinuddin Pathan killed Mr Tiwari to take vengeance for his statement against Prophet Mohammad that he had made in the past.
The two accused, one of whom was sporting a saffron kurta, met the hindu group leader at his residence in Lucknow on 18th October on an ostensible reason of giving Diwali sweets and talking about political matters. However, once they entered his house, the accused allegedly cut his throat and shot him. The victim succumbed to his injuries dispite being rushed to a hospital.
The CCTV footage recovered later showed that the accused walking up to Kamlesh's residence with a box of sweets. The box which had an address from Gujarat's Surat was recovered from the murder spot. The accused also checked into a hotel in Lucknow on Thursday, hours before allegedly murdering Mr Tiwari. Police stated that the accused went back to their hotel room to dump their clothes and weapons before they left the city.
The two accused were last seen on CCTV footage recovered from the location near Sahajahanpur bus station, around 170 km from Lucknow.
"Pressure from the police was the main reason the two accused ended up running from one place to another, be it Bareilly or Shahjahanpur. They weren't able to stay at one place for more than two to four hours, and they couldn't use any electronic devices either," Uttar Pradesh Director General of Police OP Singh said.
The Gujarat police stated that the two accused both residents of surat ran away to a western state after murdering Kamlesh Tiwari. "Once their money dried up, the accused called their family members and acquaintances in Surat for assistance. But those close to the two had already been placed under surveillance, and based on that, they were apprehended from the Gujarat-Rajasthan border near Shamlaji," a statement released by the police read.
Soon after Mr Tiwari's murder, police had apprehended five people from different parts of the country. Maulana Mohsin Sheikh, Rasheed Ahmed Pathan and Faizan were nabbed from Gujarat in a joint operation with the Uttar Pradesh polce and Sayyed Asim Ali was nabbed from Nagpur on the basis of certain details.
AlsoRead: Petrol prices remain unchanged for straight six days, here's how much you pay in your city