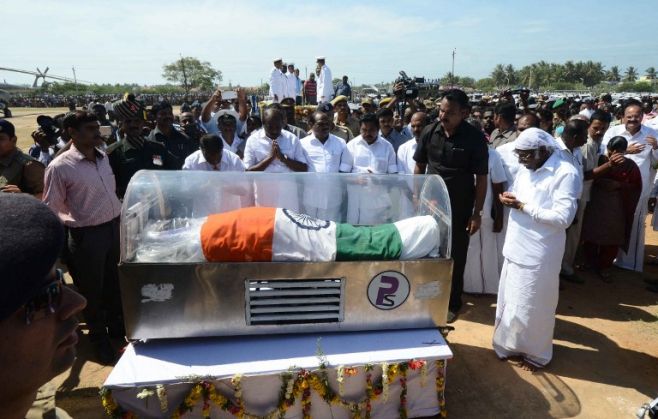 Prime Minister Narendra Modi, Congress Vice-President Rahul Gandhi, Andhra Pradesh CM Chandra Babu Naidu, Cabinet ministers Venkaiah Naidu, Manohar Parrikar, Kerala CM Oomen Chandy, Congress Spokesperson Ghulam Nabi Azad and all the heads of the armed forces, paid their last obeisance to late 'people's president', Dr Avul Pakir Jainulabdeen Abdul Kalam's funeral in his hometown Rameswaram today. The body was laid to rest in the mosque close to his ancestral home.
Mourners, several thousand in number, descended on the coastal town to bid their final goodbye. 83-year-old Kalam passed away in Shillong on Monday. The Indian flag that he was wrapped in was given to the family and the PM too reached out to offer his condolences. A minute's silence was observed before the body was taken away from the house around 9.30 AM to the mosque by the personnel of three services with the casket covered with traditional green shawl. He was given the Guard of Honour by the three forces.
At 12 noon, he was finally buried.
Tamil Nadu says goodbye to her son
The Centre had declared a seven day mourning and Tamil Nadu has declared a public holiday today. Commercial establishments were shut across the state as a mark of respect.
Keeping in mind the large volume of people present in the town, the state police has been called in for security reasons and the Navy, Coast guard and marine police personnel are deployed in the sea.
Read more about Kalam here.