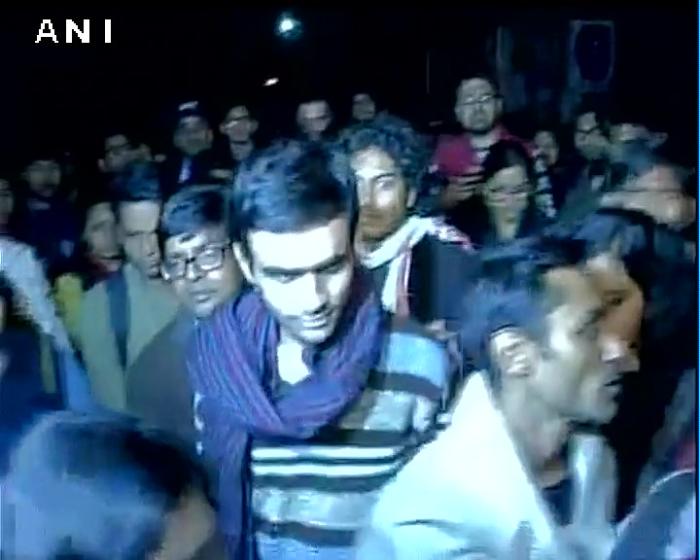 A Delhi court on Tuesday extended the judicial custody of JNU students Umar Khalid and Anirban Bhattacharya - arrested in a sedition case over a controversial event in the varsity's campus - by another 14 days.
The Delhi High Court also dismissed a plea seeking direction for an IB probe against JNUSU president Kanhaiya Kumar for his allegedly seditious remarks. The petitioner demanded an SIT probe stating that Kanhaiya's speech on the Indian Army falls under 'sedition'.
Speaking at a student's gathering on 8 March, International Women's Day, Kanhaiya alleged that the Indian Army personnel had committed atrocities against women in Jammu and Kashmir. He had said:
"No matter how much you try to stop us, we will speak up against human rights violations. We will raise our voice against AFSPA. While we have a lot of respect for our soldiers, we will still talk about the fact that in Kashmir women are raped by security personnel."
The petitioner alleged that Kanhaiya had violated the terms and conditions on which he was granted a six-month interim bail by the court.
On 11 March, the university had revoked the academic suspension of eight students, including Kanhaiya, Umar and Anirban, after the high-level probe panel submitted its report on the 9 February incident.
The eight suspended students include Umar Khalid, Anirban Bhattacharya, Ashutosh, Rama Naga, Anant Kumar, Shweta Raj and Aishwarya Adhikari, besides Kanhaiya.
The eight were suspended on 12 February for their alleged involvement in organising an event to protest the hanging of the parliament attack convict Afzal Guru on his third death anniversary.
JNU authorities are also contemplating the rustication of Kanhaiya Kumar, Umar Khalid, Anirban Bhattacharya and two other students for their role in the 9 February protests. The varsity has issued a showcause notice to the three and to other students, asking them to explain why they violated university rules.
However, a final decision will be made only after university vice-chancellor M Jagadesh Kumar and chief proctor A Dimri go through the report on the incident filed by a top level inquiry committee, according to The Economic Times.
(With inputs from ANI)