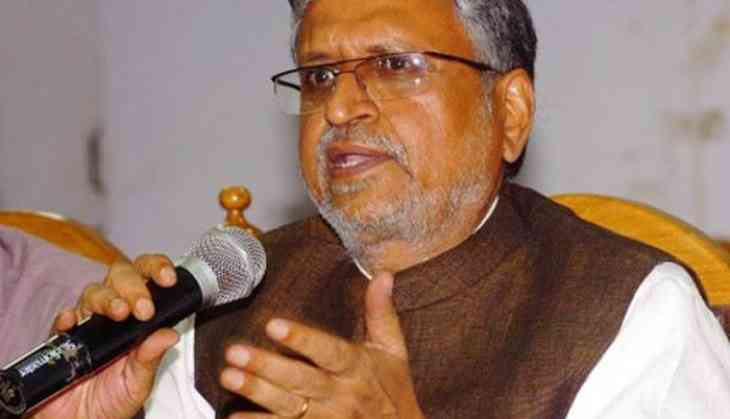 Hours after the Central Bureau of Investigation (CBI) registered a criminal conspiracy case against Rashtriya Janata Dal (RJD) chief Lalu Prasad Yadav, the Bharatiya Janata Party (BJP) today said that it is the right time for Bihar Chief Minister Nitish Kumar to end the alliance of his party, Janata Dal (United) (JD(U)), with the RJD, adding the former's two sons should be sacked without delay.
"It is the right time for Nitish to end his party's alliance with the RJD and to sack Lalu's sons from his cabinet without delay. We have faith in Nitish Kumar that he will take the right decision," BJP state unit chief Sushil Modi told media here.
He further said that this CBI raid has proved that the Lalu family is involved in corruption.
"The BJP has said time and again that Lalu is corrupt and the CBI raids have only vindicated their stand. Nitish Kumar earlier had said that either corruption will stay in the state or him. We hope that he won't remain silent on this matter and will take necessary actions," he asserted.
The CBI, earlier in the day, registered a criminal conspiracy case against Yadav on the allegations of awarding the tender for development, maintenance and operation of Hotels at Ranchi and Puri to a Private Company dealing with Hotels in the year 2006.
The CBI has also booked Yadav's wife Rabri Devi, son Tejaswi Yadav, then MD, IRCTC P.K. Goel, a Private person, two Directors of Private Company, a Private Marketing Company and one other person in connection with a same.
The CBI sleuths today conducted searches at 12 locations across Patna, Delhi, Gurgaon and other places in connection with a case linked to a hotel maintenance contract awarded by Lalu Yadav when he was the Railway Minister in 2006.
The CBI is also examining irregularities in awarding tenders to private firms for operating railway hotels located close to stations.
These raids have comes weeks after the Income-Tax department searched locations in New Delhi and adjoining areas in regard with corruption charges against Yadav's daughter Misa Bharti and her husband Shailesh Kumar.
-ANI