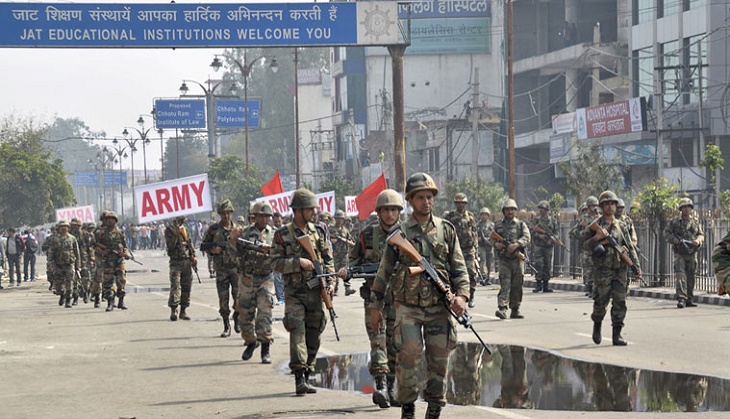 The Jat community in Haryana is all set to begin a 15-day protest to demand an increased reservation in government jobs and educational institutes. The agitation, the second round after the February stir, is set to kickstart on 5 June.
The All India Jat Aarakshan Sangharsh Samiti (AIJASS) has given the protest call. Khap Panchayats have opted out of the proposed agitation and dharnas. AIJASS Hisar chief Rambhagat Malik has said that the protesters will also demand the "withdrawal of cases registered against our leaders and youths during the stir in February".
Although Haryana administration has specified one spot in each district where dharna can take place, the officials have expressed concern that the protesters may block the national highways and rail tracks like they did during February agitation.
Jat community leaders, however, have assured the Haryana government that they will maintain peace during the pro-quota protest. "We are committed to holding dharnas in a peaceful manner," AIJASS Hisar district president Rambhagat Malik told dna.
However, the head of Jat Aarakshan Sangharsh Samiti, Nafe Singh Nain, yesterday said they will not participate in the protest slated for June 5.
Meanwhile, Nafe Singh Nain, National President of Jat Aarakshan Sangharsh Samiti, said they will not participate in the 5 June protest. "The government has assured the community of providing reservation and compensation to the families of those killed in the February stir. We trust the government and there is no need for agitation now and if someone still protest, we are not with them," dna quoted the Jat leader as saying.
Security arrangements
Security in the state has been beefed up ahead of the stir. 55 companies of paramilitary forces have been deployed in Haryana.
"Besides adequate deployment of police personnel, as many as 48 companies of paramilitary forces have been deployed at various places in the state keeping in view the call for a stir. We have asked for 15 more companies from the Centre," Haryana Additional Chief Secretary (Home), Ram Niwas told ANI.
Haryana Additional Chief Secretary (Home) said that they did not want to be lax with security even though only one group was going ahead with the dharna. He also said that police and paramilitary forces have been deployed to guard the Western Yamuna Canal in Sonipat district.
Section 144 against Section 144 against unlawful gatherings has also been imposed in Jhajjar, Sonipat, Rohtak, Panipat, Hisar, Fatehabad, Jind and Kaithal which also covers national highways.
Police are keeping a close watch on anyone trying to spread rumours or make inflammatory statements through social media.
"We have empowered Deputy Commissioners with the power of National Security Act (NSA)" Ram Niwas said, adding, "We have made adequate arrangements in order to prevent any kind of road or rail blockade".
A dedicated helpline has been provided which will be monitored by a control room in Chandigarh round-the-clock. Bulk SMS and mobile internet have been suspended in Sonipat and Rohtak districts till further notice.