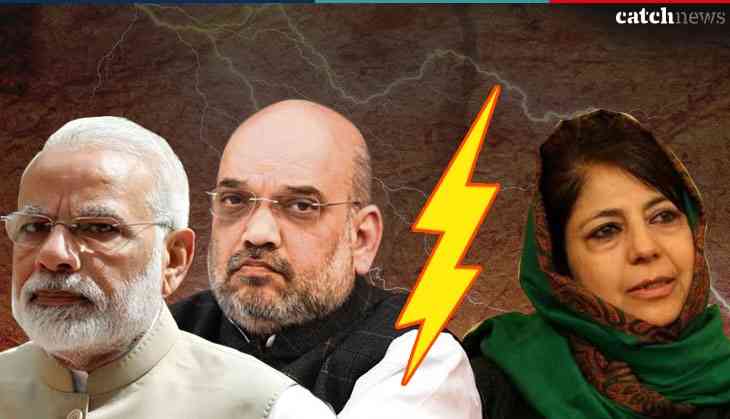 The BJP has pulled out its alliance with the Mehbooba Mufti's PDP or People's Democratic Party in Jammu and Kashmir. After BJP ends alliance with PDP, Mehbooba Mufti resigned as chief minister of the Jammu and Kashmir.
We will talk in detail at 5pm, meanwhile she (Mehbooba Mufti) has submitted her resignation (as J&K CM) to the Governor: Naeem Akhtar, PDP pic.twitter.com/w8vNI6XeRw

— ANI (@ANI) June 19, 2018
The decision came after BJP president Amit Shah met with the party's lawmakers from Jammu and Kashmir in Delhi.
We can only put our heads together & discuss in the party meeting at 4 pm, says Rafi Ahmad Mir, PDP Spokesperson on reasons why BJP pulled out of alliance with them in J&K
According to reports, the rift between the two parties widened following the central government's decision to resume anti-terror operations in the state after Ramzan.
We have taken a decision, it is untenable for BJP to continue in alliance with PDP in Jammu & Kashmir, hence we are withdrawing, says BJP lawmaker Ram Madhav in a press conference.
While, Congress leader, Gulam Nabi Azad on allaince with PDP says, whatever has happened is good. People of J&K will get some relief. They (BJP) ruined Kashmir & have now pulled out, maximum number of civilian & army men died during these 3 years. That question does not arise.
Also read: Jammu And Kashmir: BJP Breaks Alliance With CM Mehbooba Mufti's PDP In state