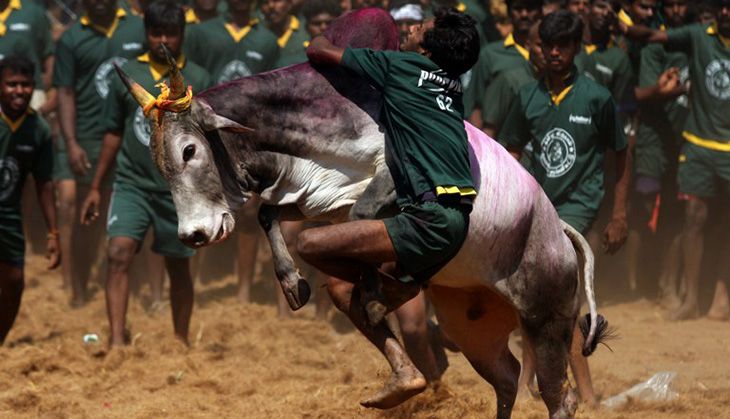 Coming out in support of bull taming sport Jallikattu, students today staged demonstrations at many places across Tamil Nadu including in Madurai, where police used lathicharge to disperse protesters who tried to break barricades to enter the Collectorate.
Students of state-run Anna University and Dr Ambedkar Law University voiced support for Jallikattu. While Anna varsity students staged a sit-in protest, law students took out a rally here.
They held aloft placards and banners seeking permission for conduct of Jallikattu.
Similar demonstrations were held by students in various places, including Vellore, Pudukottai and Tirupur. In Madurai, after holding a demonstration, hundreds of students tried to break through the barricade in front of the Collectorate to submit a memorandum to the Collector.
Police advised them to go in a small group to give the memorandum. However, they got restless and began to push the barricades, following which police resorted to a lathi charge to bring the situation under control, police said. Some of them entered into a scuffle with police, fell down in the melee and received minor injuries, they said.
The Supreme Court in November last had dismissed the plea of the state government, seeking review of its 2014 judgement banning use of bulls for traditional Jallikattu events in the state.
--PTI