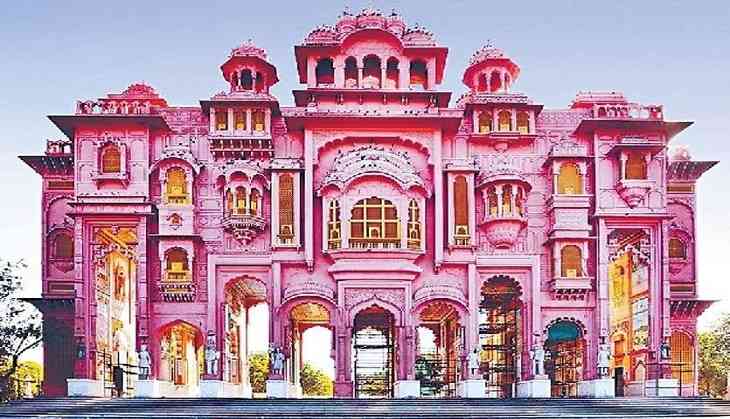 Prime Minister Narendra Modi will virtually inaugurate the historic Patrika Gate located at Jawaharlal Nehru Marg on September 8 (Tuesday) at 11 am. PM Modi will also release the book 'Samvad Upanishad' and 'Akshar Yatra' written by Gulab Kothari, editor-in-chief of Rajasthan Patrika.
The Patrika Gate which incorporates the architectural and cultural heritage of Rajasthan will become another attraction for tourists in Jaipur.
Ashok Gehlot, the Chief Minister of Rajasthan, will be the chief guest of the ceremony. The program will be helmed by Gulab Kothari.
Patrika Group has constructed Patrika Gate under the mission of Anupam Yojana of the Jaipur Development Authority. The gate is built on Jawahar Circle near Sanganer International Airport.
History:
The idea of building the gate is connected with the old gates of Jaipur walled city.
In 1727 AD, Maharajah Sawai Jai Singh II founded the pink city and has occupied the perimeter with a wall and eight gates.
The city was founded on the principles of Shilp Shastra and Vaastu. Several building and temples were built on the same axis--Govind Dev Ji Temple, Jaipur City Palace, Garh Ganesh Temple, the Albert Hall Museum, Triploia Gate, and the New Gate
Now, Patrika Gate is being represented as the ninth gate of Jaipur.
The Patrika Gate is inspired by the old architectural legacies of Mewar, Hadauti Shekhawati, Brij, Vagad, Godwad, and Ajmer.
Number 9 role:
It is being said that number nine plays a critical part in the making of the Patrika Gate. There is a total of nine pavilions. Each pavilion is 9 feet wide. The width of the gate is 81 feet and height is 108 feet. Also, Patrika Gate is the ninth gate of Jaipur.
Also Read: PM Modi: We're working to make India a knowledge economy