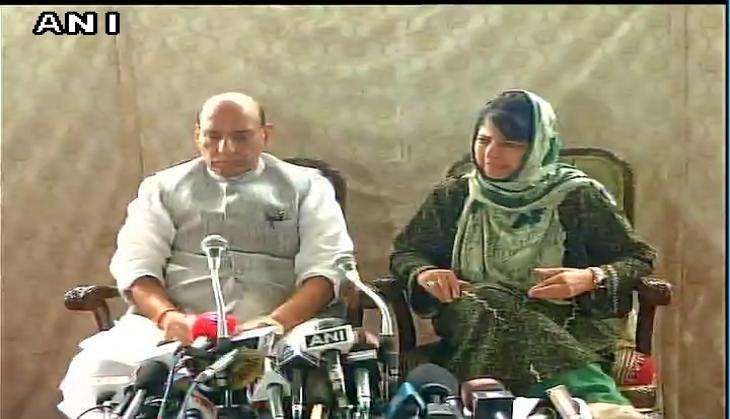 Jammu and Kashmir Chief Minister Mehbooba Mufti today lost her cool and abruptly ended a press conference being addressed by her and Union Home Minister Rajnath Singh here when journalists asked questions about her role in dealing with the current unrest.
She suddenly got up, saying "thank you", after replying to a question even as Singh was seated. He also then got up reluctantly and the press interaction at her residence ended. The joint press conference addressed by Home Minister Rajnath Singh and Jamm and Kashmir chief minister Mehbooba Mufti didn't go as planned.
Why did Mufti lose her cool?
In Kashmir, to lend protesting people of the state a healing touch, Singh spoke about finding alternatives to pellet guns which have caused grave injuries, blinding children as young as 5. However, it was Mehbooba Mufti's interaction with the media that became the highlight of the press conference.
Mufti sternly brought home the message that she would not put up with the violence unleashed by only "five%" while 95% people of the state supported a peaceful resolution and an end to the violence sparked off by Hizbul commander Burhan Wani's killing on 8 July.
She also warned those 5% using children as a shield forcing them into stone pelting armed forces.
"Most of the children who were killed (by security forces) were killed in retaliation for attacking army camps. The children didn't go to the army camp to buy milk or toffees," she said.
While responding to questions, Mehbooba condemned stone-pelting and other forms of violence being witnessed in Kashmir since the last 47 days and suggested that casualties will take place when camps of security forces and police pickets and police stations are attacked by violent mobs.
"95% of those killed -- mostly youth -- have died in retaliatory action while they were attacking the security establishments," she said.
She added, "People have come onto the roads. We imposed curfew. Did the children go to army camps to buy toffees (candy)? Was the 15-year-old boy, who attacked the police station at Damhal Hanjipora (in south Kashmir), going there to get milk?"
At the same time, she said she supported action against those security personnel who were involved in the killing of a lecturer in Khrew area of Pulwama district earlier this month.
When asked why she spoke up against the violence in 2010 and 2012 when NC's Omar Abdullah was the Chief Minister, she passionately spelled out the difference between the reasons that had sparked off violence then and now.
#WATCH: J&K CM Mehbooba Mufti explains the difference between 2010 and 2016 violence in Kashmir.https://t.co/loGeLu2Uv0

— ANI (@ANI_news) August 25, 2016
She said: "The agitation in 2010 was about human rights violations. Machil fake encounter had happened, Shopian rape and murder case was there, a teenage boy was killed - there was a reason for the anger.Today, three militants were killed, as it has been happening for years, people came out on roads and curfew was imposed. How is the government to be blamed?''
However, when the blow of tough questions didn't stop, she stormed out of the press conference offering a cup of tea to journalists presents.
The press conference was part of Rajnath Singh's two-day visit to Kashmir to reach out to protesters. When he was asked about whether he would strike a talk with the separatist leaders, Singh said: "We are willing to talk to anyone within the scope of Kashmiriyat, Jamooriyat and Insaniyat."
This is Singh's second visit to the state, where a cycle of violence has claimed 45 lives and injured 10,000.
With inputs from PTI