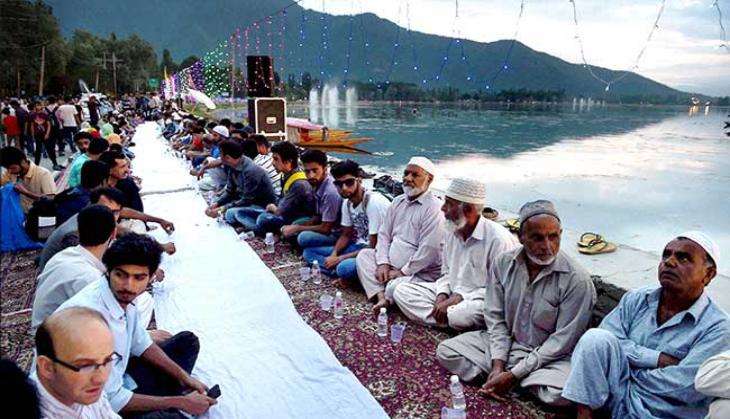 The Kashmir valley on Thursday evening witnessed a record-breaking Iftar party, with around 3,000 people breaking their fast together.
The event was organised by event management group, LoudBeetle.in, which had hosted Asia's longest Iftar on the banks of the world famous Dal Lake last year, with more than 3,500 people forming a 5,000-feet-long chain over 'dastarkhans' or dining cloth to break their fast.
In yesterday's Iftar, there was no guest list as everyone was invited.
Sponsored by the local traders and companies, the idea behind the event was to foster brotherhood in the holy month of Ramzan.
"It is a community get together. The holy month of Ramzan is known for the festivals. So we are trying to send across a message of brotherhood by hosting Kashmir's largest Iftar," said Ahmer Khan, the function's organiser.
"From juice, to biscuits to dates to ferni (dessert), the menu was carefully chosen to suit the taste buds of people in the fasting month," he added.
A local, Irfan Aziz said such events send a message of brotherhood.
Last year, Alexandria, Egypt, broke the Guinness Record for the longest Iftar spread by hosting 7,000 people.