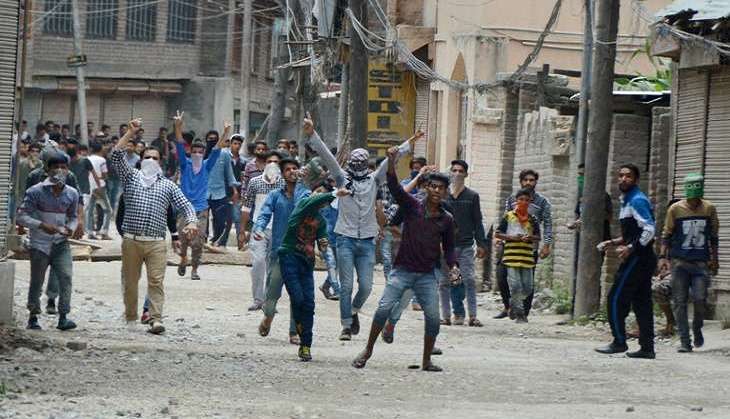 Over 700 people are currently being treated for bullet and pellet injuries across hospitals in the Valley - following the protests in the wake of the killing of Hizbul Mujahideen commander Burhan Wani - the state health department has said.
According to the health department, the injured include 100 in Anantnag - among whom 13 critical patients were referred to Srinagar - 210 in Pulwama, 36 in Kulgam and 54 in Baramulla. Ninety one people who have sustained severe injuries from bullets and pellets are undergoing treatment at Srinagar's Shri Maharaja Hari Singh Hospital (SMHS) while 39 are being treated at the Sher-i-Kashmir Institute of Medical Sciences, The Indian Express reported.
According to the report, hospitals in the Valley have complained of an acute shortage of trollies and stretchers, with many of the patients reportedly being physically carried by hospital staff.
Late on 9 July, tear shells were flung into the SMHS compound, filling the emergency ward with smoke. Policemen entered the hospital, looking for protesters and took away two young men with pellet injuries, the Indian Express quoted a paramedic as saying.
Dr Sajjad Khanday, an ophthalmologist, said that he had never seen so many people with serious ocular injuries in a day. "The first patient (with eye injury) arrived at 2.30 pm (Saturday) and we are still busy. There are 35 seriously injured," he told The Indian Express.
He said that the nine surgeons were taking turns to treat the injured. "We tried our best, but 22 to 24 of the patients could have profound and permanent effects on their eyesight. Fortunately, all these patients have pellet injuries in only one eye," he told the daily.
"Such a situation affects everybody. It becomes personal for each of us. I strongly suggest that the use of pellet guns be stopped immediately because it is making young people blind," he was quoted as saying.
A general surgeon told the daily that he had come out of the OT after 24 hours. "I couldn't do it anymore. I was part of 10 serious surgeries since Saturday morning,'' he said.
Staff at the Sher-i-Kashmir Institute of Medical Sciences reported similar scenes. Senior health department officials said that 25 ambulances carrying patients were attacked.
Protesters allegedly pelted five ambulances with stones. "Last night, an ambulance carrying the body of a protester was attacked on way to Shopian from Srinagar. A Chief Medical Officer's ambulance was attacked by the CRPF at Lasjan," a senior official told The Indian Express.