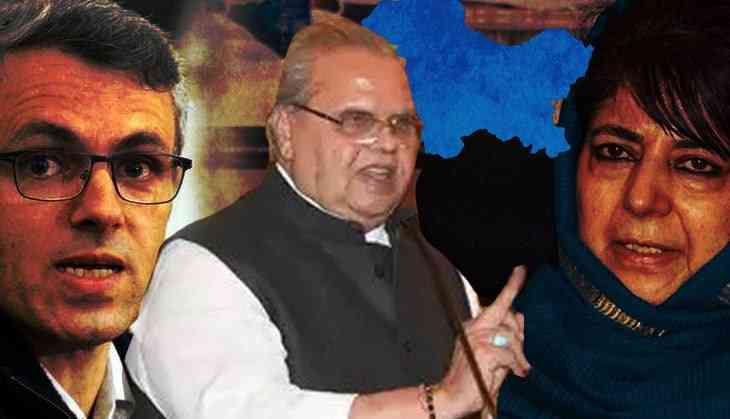 Jammu and Kashmir political crisis
In the midst of political crisis in Jammu and Kashmir, the Congress party's senior leader Ghulam Nabi Azad has issued a statement saying they are not upset with the governor, but the Central government.
The Jammu and Kashmir assembly was dissolved by the governor Satya Pal Malik, when the Mehbooba Mufti led People's Democratic Party had staked its claim to form the governmentwith the support of National Conference and an outside support of the Congress party.
It is being said that the fax machine of the Raj Bhawan was not working when the letter of forming the new government was sent through a fax to the Governor's house.
Satya Pal Malik has claimed that it was Eid yesterday and the office was closed, and there were no staff to look after the fax machine and even no cook were present.
Ghulam Nabi Azad has said, "We don't have any complaints from Governor. He is a very nice man. We have complaints from central government that if they had to dissolve the assembly, they should've done it 4-5 months ago when they withdrew support from PDP."
Former Jammu and Kashmir chief minister Azad added that, "For these 4-5 months, BJP tried to form their own government but they didn't have majority. So they tried to break MLAs from other parties. When they saw that another govt could have been formed, BJP dissolved the assembly."
National Conference supremo Omar Abdullah has said, "Legally,we don't have case to make. As I don't have a document on which to claim Guv ignored what we had to say. My conversation was with PDP. It's for PDP to decide whether it wants to take legal recourse.I didn't provide documentary support."
Also read: Muzaffarpur shelter home case: Former Bihar Minister Manju Verma, who had surrendered earlier, sent to 1
Legally,we don't have case to make. As I don't have a document on which to claim Guv ignored what we had to say. My conversation was with PDP. It's for PDP to decide whether it wants to take legal recourse.I didn't provide documentary support: O Abdullah on J&K assembly dissolved pic.twitter.com/wltKrto8Cg

— ANI (@ANI) November 22, 2018
We don't have any complaints from Governor. He is a very nice man. We have complaints from central government that if they had to dissolve the assembly, they should've done it 4-5 months ago when they withdrew support from PDP: Congress' Ghulam Nabi Azad on J&K assembly dissolved pic.twitter.com/TVUqsHEtry

— ANI (@ANI) November 22, 2018