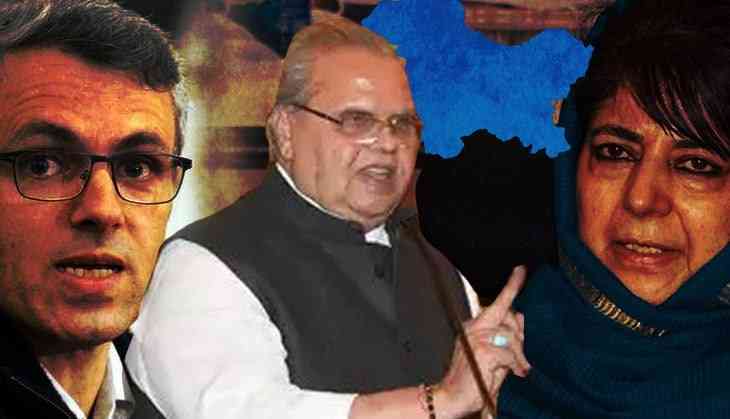 Jammu and Kashmir political crisis
Jammu and Kashmir has been reeling under political turmoil since June, and yesterday when the Opposition parties including PDP, NC and the Congress staked claim to form the government, governor Satya Pal Malik dissolved the assembly.
Satya Pal Malik has said that he never wanted a horse trading in the state and hence he has dissolved the assembly. Yesterday, when the Mehbooba Mufti led alliance had faxed the letter of the support to form the government, it as reported that the fax machine of the Raj Bhawan was not functioning and thereafter, Sajjad Lone of the Jammu and Kashmir People's Conference, who had mere 2 MLA's staked claim to form the government, with the help of BJP and 18 other MLA's, including the dissidents.
Governor Satya Pal Malik has said, "I have been saying it since day one of my appointment as Governor that I'm not in favour of any govt formed in the state with underhand defection & horse trading. I would instead want that elections are held & selected government rules the stat."
The governor added that "I've been receiving complaints for past 15 days of horse trading & that MLAs are being threatened. Mehbooba Ji herself complained that her MLAs are being threatened.The other party said there is planning of distribution of money.I couldn't have allowed this to happen."
BJP's national spokesperson Ram Madhav has alleged that its the Pakistan who has given the tip off for forming the government to the Opposition parties. He said, "Only Governor can answer why Guv home's fax is not working. Only he should answer. But this is lame excuse on the part of Madam Mehbooba. In letter, she never claimed that she will form the govt, she said I'll come & see you & stake the claim. It was all a drama."
Also read: Shocking! Killer of 3-year-old girl, confesses to torture, rape and kill brutally 8 more girls; says 'used to
Ye forces wo hain jo grassroot democracy bilkul nahi chahti thin aur achanak ye dekhke ki hamare haath se chijein nikal rahi hain,ek unholy alliance karke mere saamne aa gaye. Maine kisi ka pakshpat nahi kiya.Maine jo J&K ki janta ke paksh me tha wo kaam kiya hai: J&K Governor pic.twitter.com/6t3TyqIRSK

— ANI (@ANI) November 22, 2018
PDP&NC boycotted local body polls last month because they had instructions from across the border.Probably they had fresh instructions from across the border to come together & form govt.What they did prompted Guv to look into the whole issue: Ram Madhav on J&K assembly dissolved pic.twitter.com/f0wPQbzqrD

— ANI (@ANI) November 22, 2018