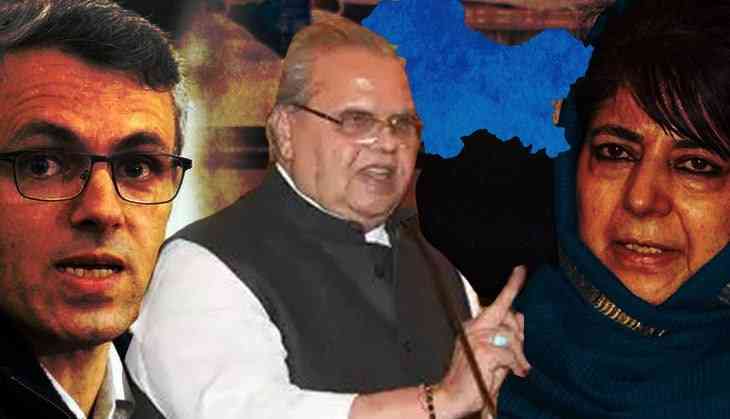 Amid the political crisis in Jammu and Kashmir, the president of People's Conference, Sajjad Lone has said that he had the adequate numbers to form the government.
Lone was presented as the front runner in the post to become the chief minister, backed by the Bhartiya Janta Party and 18 other MLA's, which included the dissidents and the rebels of the PDP and National Conference.
Sajjad Lone today said, "We staked the claim as we had the numbers. Had there been a floor test or had we been told to bring in the numbers, then that which is within the purview of the constitution would have happened."
Although, Lone took the credit of bringing the two diametrically opposite parties of the Jammu and Kashmir, PDP and the NC together and asked the aggrieved parties to proceed to court, if at all they think that some unconstitutional thing has happened in the state, after the decisions of governor Satya Pal Malik.
He said, "If they (PDP) are so aggrieved they can go to the court but they will not because they don't have the numbers. But we are happy that we got these dynastic parties together."
Former CM Farooq Abdullah has attacked the BJP and the governor upon the "unholy alliance" which Satya Pal Malik gave as one of the reason to suspend the Assembly.
He said, "When PDP was in alliance with BJP then it was not 'terror-friendly?' It has become 'terror-friendly' when it talked of alliance with NC and Congress?"
Farooq added that "I had a lot of hopes from this Governor, but this is very sad. He has turned out to be another slave of the Centre. The post of Governor needs to be looked into. Why did he wait 5 months to dissolve assembly?"
Also read: BJP president Amit Shah among "principal conspirators" in Tulsiram Prajapati encounter case, says
If they (PDP) are so aggrieved they can go to the court but they will not because they don't have the numbers. But we are happy that we got these dynastic parties together: Sajjad Gani Lone, People's Conference #JammuAndKashmir https://t.co/fLCJAsSx52

— ANI (@ANI) November 23, 2018
When PDP was in alliance with BJP then it was not 'terror-friendly?' It has become 'terror-friendly' when it talked of alliance with NC and Congress?: Farooq Abdullah pic.twitter.com/w9qn5Kg3ce

— ANI (@ANI) November 22, 2018