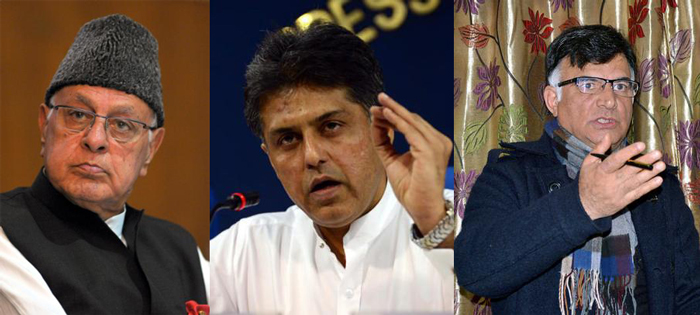 Amidst the Kashmiri separatists issue threatening to jeopardise the India-Pakistan NSA-level talks, here's what other political stakeholders have positioned themselves on the issue.
Separatists talking with Pak no big deal, even Vajpayee didn't oppose it: PDP
Ruling party and BJP's coalition partner in Jammu and Kashmir PDP feels that the NSA-level talks between India and Pakistan this weekend must go on as the people of J&K were the "worst sufferers of the hostilities" between the two countries, asserting that only dialogue can resolve problems.
Speaking to PTI, PDP chief spokesman Mehboob Beg said: "It is for the Pakistan to decide whether to meet separatists or not. Such meetings (between separatists and Pakistani officials) have been happening in the past. These meetings happened during Atal Bihari Vajpayee's tenure and then during Manmohan Singh's time as well."
Beg further added: "Vajpayee almost clinched the deal ... the talks continued when Manmohan Singh took over as Prime Minister, but due to the developments that place in Pakistan in respect to agitation against (then Pakistan president Pervez) Musharraf, no headway could be made."
Separatists shouldn't meet Pak; cancelling talks would intensify border problems: Farooqu Abdullah
NC leader Farooq Abdullah has urged separatist leaders not to meet Pakistan NSA Sartaj Aziz during his visit to India for talks with his Indian counterpart so that the two countries can find a way of ending hostilities along the borders in Jammu and Kashmir.
"I request them (separatists) not to meet Aziz and let the National Security Adviser-level talks go ahead between the two countries... may be something comes out of these talks that will (deal with) cross-border shelling," the former J-K chief minister said.
Abdullah was responding to the Ministry of External Affairs' 'advice' to Pakistan not to go ahead with Aziz's engagement with the Kashmiri separatists during his visit to India for talks with NSA Ajit Doval on August 23.
Abdullah said that if the talks are called off by India, cross-border shelling would resume, "may be, with added intensity".
Cancel talks, flip flop diplomacy hurting India: Congress
Congress slammed the government over its policy with regard to Pakistan, saying it had made a "joke of itself" and "failed" to send a clear message despite provocation. Former Union minister and Congress leader Manish Tewari said the BJP-led NDA government is making a "joke of itself" as regards its engagement with Pakistan.
He added that even BJP veteran Yashwant Sinha had called for the cancellation of the exercise, describing it as a betrayal of former Prime Minister Atal Bihari Vajpayee's policy towards the neighbouring country.
"And the manner in which (Pakistan NSA) Mr Sartaz Aziz and Pakistan have been conducting themselves, they are sending a very clear message that they are not interested in our conversation," Tewari said.
The Congress leader said that the Pakistan NSA has not even sent his itinerary as to what he intends to do while in India on his proposed day-long visit.
"So, therefore, Mr Prime Minister, you need to tell the nation; are you under international pressure to talk to Pakistan?" Tewari asked.
(With inputs from PTI)