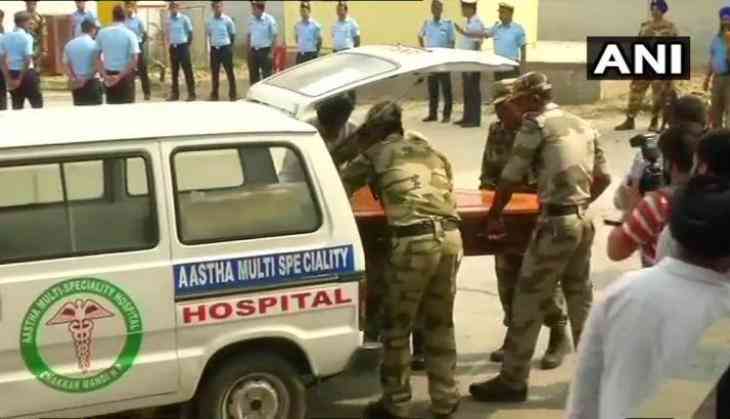 The 39 Indians that were killed by ISIS in Iraq's Mosul, who went missing since June 2014, were recently declared 'dead' by the Indian government. The 38 out of 39 Indian men mortal remains carried by a special aircraft has reached Indian and landed in Amritsar on Monday.
The EAM VK Singh left on Sunday in an Indian Air Force transport plane to bring the mortal remains of the Indian killed in Mosul.
Punjab: Mortal remains of the 38 Indians who were killed in Iraq, brought to Amritsar pic.twitter.com/ALGLHvZ67S

— ANI (@ANI) April 2, 2018
According to a report in The Indian Express, Of the 39 who died, 27 are from Punjab, four from Himachal Pradesh, two from West Bengal and six from Bihar. The one body of 39 Indians are not being brought back for now as DNA testing had only provided a 70 per cent match; the others have had more than 95 per cent match, reported The Indian Express.
"We are thankful to the authorities in Iraq for the help to locate the victims and exhume the mortal remains. The government of India did its best to know about the missing Indians," General Singh told reporters.
The 27 mortal remains of the Indians' will be taken to their villages. According to report, The Punjab Chief Minister and Congress leader Amarinder Singh have asked people in Punjab who are protesting against a Supreme Court order on an SC/ST law to allow the convoys to pass.
"While we were looking for proof of life in a war-torn country, it was always the easier choice to declare them dead. But we owe it to their families and to the nation to have looked for them," General Singh had said.
On March 20, The external and affairs minister Sushma Swaraj had informed parliament that all the 39 Indians, who had been missing since June 2014, have been dead and were killed by ISIS in Mosul, Iraq.
Also read: Bharat Bandh: Massive protest by Dalit hits four states; protestors block rail tracks, Internet suspended in Punjab