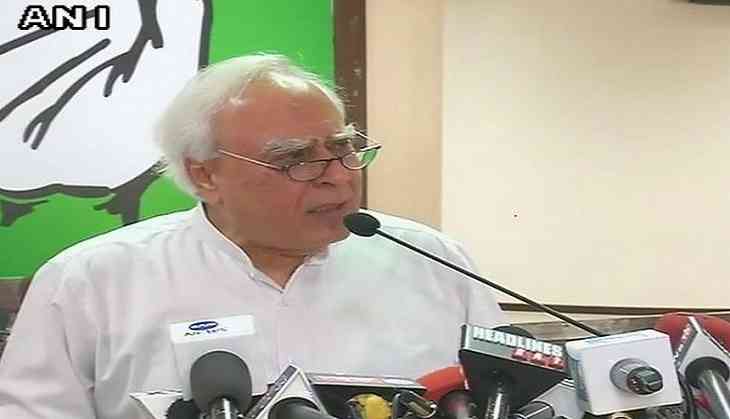 Lashing out at the Centre over the lack of a full time Defence Minister, after the mutilation of two Indian soldiers in Jammu and Kashmir's Krishna Ghati sector, Congress leader Kapil Sibal on Tuesday slammed Prime Minister Narendra Modi over his silence on the matter.
"After the horrifying surgical strike that took place months ago, we thought that India will not face any such attacks but our hopes are all shattered. Only a full time defence minister can create a full time strategy towards growth and security," said Sibal in a press conference.
Slamming the Bharatiya Janata Party (BJP) over the promises it made during elections, Sibal further asked why the Prime Minister is silent on such a grave and serious situation.
"I am shocked as well as ashamed at the Indian Government. I wish to remind our Prime Minister Narendra Modi, who during elections promised many things, but now seem to be quiet. He has also many a times tried joining hands for friendship with Pakistan but nothing worked out, so India should not wait anymore and rather take action quickly," said Sibal.
Meanwhile Union Finance Minister Arun Jaitley met Prime Minister Modi here today and had a discussion on the mutilation.
Earlier on Monday, the Pakistan's brutal Border Action Team (BAT) again mutilated the bodies of two Indian soldiers on Monday in Krishna Ghati sector along the Line of Control, where they had beheaded Lance Naik Hemraj in 2013.
The Indian Army confirmed the involvement of the BAT in the gruesome act beheading Indian soldier.
"Pak Army carried out unprovoked rocket and mortar firing on two forward posts on the Line of Control in the Krishna Ghati sector.
Simultaneously, a BAT action was launched on a patrol operating in between the two posts. In a unsoldierly act by the Pak Army, the bodies of two of our soldiers in the patrol were mutilated. Such despicable act of Pakistan Army will be appropriately responded," read the Indian Army's statement.
It is the same Krishna Ghati sector where the Pakistani BAT had beheaded Lance Naik Hemraj and badly severed the head of Lance Naik Sudhakar Singh of 13 Rajputana Rifles, on January 8, 2013.
Indian Army killed terrorist Anwar Khan in August 2015 in Poonch area of Jammu and Kashmir. He was part of a 15 member team of Lashkar and Jaish terrorists in the BAT team that killed Hemraj and Sudhakar.
In fact, the BAT is a brutal and barbaric arm of Pakistan Army. Its actions along the Line of Control ( LOC) may be not in public domain, but the Indian Army has been bearing its brunt for long. The raiding members of BAT are specially instructed not be caught on the Indian side.
Defence experts say that the Pakistan's Special Services Group (SSG) forms the BAT which employs highly trained terrorists for Trans-LoC action up to a depth of 1 to 3 kilometres.
In February 2000, seven months after the Kargil War, a Pakistani BAT killed seven Indian soldiers in Nowshera in Rajouri district. The army was shocked to discover the headless body of a soldier, Sepoy Bhausaheb Talekar.
Defence experts say that the Pakistani BAT beheads and mutilate the bodies of Indian soldiers to terrorise troops and wage psychological warfare.
-ANI