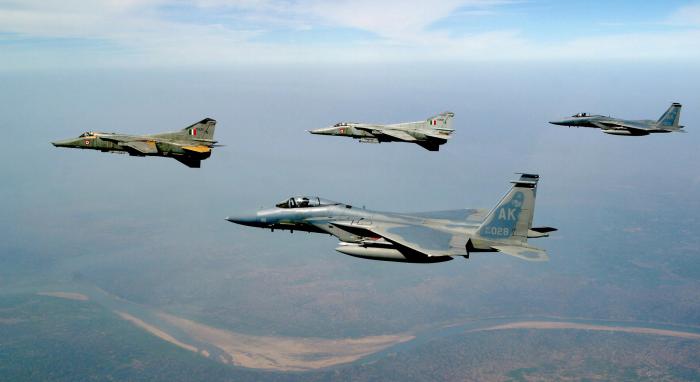 The Indian Navy phased out Sea Harrier, its iconic maritime fighter planes at a ceremony in Dabolim in Goa on Wednesday.
The Sea Harriers, part of INAS 300 (Indian Naval Air Squadron 300, also called White Tigers), were inducted into the navy in 1983 and were deployed onboard INS Vikrant and INS Viraat aircraft carriers. The Viraat is likely to be decommissioned soon too, reported Hindustan Times.
The White Tigers squadron will now induct Russian-origin MiG-29 K fighters.
Maintainenance of the fighter planes gave a tough time to the Indian Navy as the British firm Rolls-Royce stopped producing its parts. The six operational Sea Harriers and five airframes, built by British Aerospace, will be discharged as mementos to various naval aviation bases and the naval academy.
The two of them might be preserved onboard if the government converts the aircraft carrier into a museum.
The Indian Navy's Sea Harrier squadron was deployed during Operation Vijay in 1999, Indian operation to push back infiltrators in the Kargil War, and embarked on the Viraat during Operation Parakram in 2001, the 2001-2002 India-Pakistan standoff.
The fighter planes were fitted with anti-ship Sea Eagle missiles, Derby air-to-air beyond visual range missiles and Matra Magic II missiles. The fighters also had the capability to fire rockets and drop bombs, reported the Hindustan times.