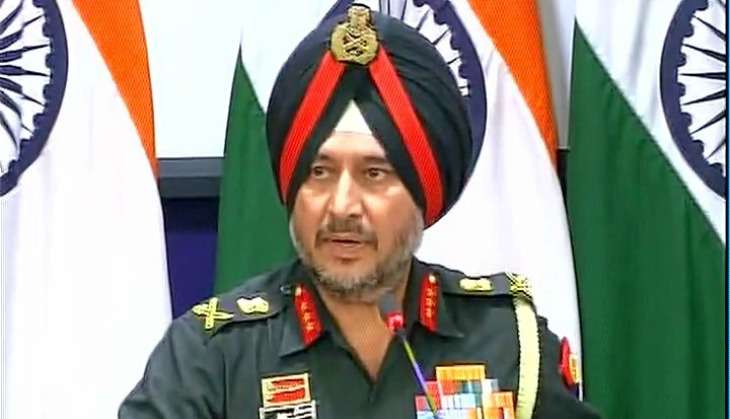 The Indian Army on Wednesday night conducted surgical strikes on terror launch pads at the Line of Control (LoC), the DGMO said on Thursday in a press briefing.
"India conducted surgical strikes last night across the LoC to safeguard our nation, the Defence Ministry said on Thursday. Significant casualties have been caused to terrorists and those trying to shield them. We don't have a plan to further conduct such strikes. India has spoken to Pakistan," DGMO Lt Gen Ranbir Singh said at a press conference.
Also Read: Captured terrorists confess was trained in Pakistan & PoK areas: DGMO
Villages in Punjab, 10 km away from the International Border with Pakistan are currently being evacuated, as additional Border security troops move in. Villages evacuated are: Ferozepur, Fazilka, Amritsar, Taran Tarn, Gurdaspur and Pathankot.
Security forces acted after intelligence inputs about terrorists preparing to launch strikes against India about eight days ago. According to latest reports, seven surgical strikes were carried out. Indian Army special Forces were paradropped. Operation was a combination of heliborne and ground forces, says PTI. The surgical strikes began at midnight and continued till 4:30 am in the morning.
On Thursday morning, Prime Minister Narendra Modi chaired a meeting of the Cabinet Committee on Security (CCS) to review the situation along the LoC.
The Pakistani troops, on Thursday night, also violated ceasefire along the LoC in Naugam sector of Kashmir by firing opening towards Indian Army posts. No loss of life or injury has been reported by Indian Army so far. Meanwhile, Pakistan has rejected India's claim of "surgical strikes" across LoC.
Also Read: Pakistan PM Nawaz Sharif condemns India's surgical strikes across LoC
#FLASH We condemn this attack, our desire for peace should not be interpreted as our weakness, says Pak PM Nawaz Sharif - Pak Media

— ANI (@ANI_news) September 29, 2016
According to Dawn.com, top political and military leadership vowed to continue support for the Kashmiris' struggle and pointed to the 'restraint' shown by Pakistan in the face of recent Indian provocations. "Pakistan will continue to extend its moral and diplomatic support to Kashmiris until the issue of Kashmir is resolved as per aspirations of Kashmiri people," Prime Minister Nawaz Sharif said while presiding over a meeting of key aides.

Reports in Pakistani media say two Pakistani army men were killed in the exchange. Pakistan's Inter-Services Public Relations (ISPR) issued a statement that said: "Pakistani troops befittingly responded to Indian unprovoked firing on the LoC in Bhimber, Hotspring Kel and Lipa sectors."

Meanwhile, Sensex crashed 555 points while Nifty slided about 170 pts in noon trade after reports of surgical strikes against Pakistan.

Also Read: Market shrinks, Sensex falls 555 pts after reports of India's surgical strikes across LoC

The Prime Minister has informed President Pranab Mukherjee, Vice-President Hamid Ansari, former Prime Minister Mahmohan Singh, Jammu & Kashmir Governor and CM Mehbooba Mufti.

According to emerging reports, the DGMO and Prime Minister's Office was up the whole Wednesday night, monitoring the strikes. Home Minister Rajnath Singh has called for an all-party meeting at 4 PM today.

"Pakistan was behaving like a terrorist state. Befitting reply was needed. These strikes boosted morale of our army," said Dr Nirmal Singh, J&K Deputy Chief Minister.
Pakistan rejects India's surgical strikes claim
The Pakistani military confirmed the deaths of its soldiers yet dismissed the Indian claim of 'surgical strikes', according to Pakistan's Dawn.com. Pakistan Army spokesperson Asim Bajwa.

"There had been cross border fire initiated and conducted by India which is [an] existential phenomenon," said an ISPR statement released shortly after the Indian press briefing.

According to Pakistan Defence Minister Khawaja Asif, two soldiers died and while nine have been injured.

Bajwa claimed that India has violated the international laws and trying to gain world's sympathy with the action.
Statement by DGMO