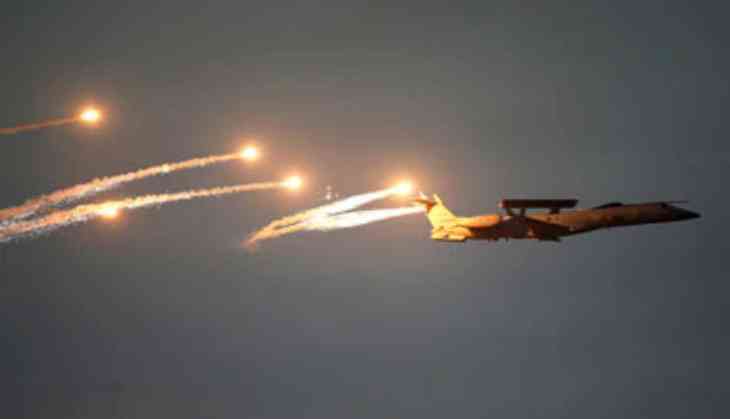 IAF strikes terror camp in PoK
After deadly attack in Pulwama two weeks ago which claimed 40 CRPF lives, Indian Air Force has conducted a major operation across LoC and have blown the terror camps of Jaish-e-Mohammad.
At 3:30 am on February 26, the IAF with a group of Mirage 2000 Indian Fighter jets had struck the terrorist camps and destroyed it. The IAF dropped around 1000 kgs of bomb at different locations and in under 21 minutes, the operation was conducted with a 100% accuracy.
ANI tweeted, "Balakot, Chakothi and Muzaffarabad terror launch pads across the LoC completely destroyed in IAF air strikes. JeM control rooms also destroyed."
A high level meet was chaired by PM Narendra Modi thereafter, wherein Rajnath Singh, Nirmala Sitharaman, Arun Jaitley, Sushma Swaraj were present and it was being briefed by NSA Ajit Doval.
#WATCH Foreign Secy says,"This facility in Balakot was headed by Maulana Yusuf Azhar alias Ustad Ghauri, brother in law of JeM Chief Masood Azhar...The selection of the target was also conditioned by our desire to avoid civilian casualty. It's located in deep forest on a hilltop" pic.twitter.com/QENnnkU5Rh

— ANI (@ANI) February 26, 2019
Sources: Pakistani F16s were scrambled to retaliate against IAF Mirage 2000s but turned back due to size of Indian formation. Western Air Command coordinated operation. pic.twitter.com/cCXndYNc1H

— ANI (@ANI) February 26, 2019
It is after 1971, that India has used the Air Force across the border to neutralize the terrorist activity.
Pakistan Army Major General Asif Ghafoor tweeted about India's aerial strikes but retracted saying, Pakistani Air Force retaliated.
A high alert was issued at the international borders by the Indian Air Force and NSA Ajit Doval along with Indian Army Chief Bipin Rawat and IAF Chief BS Dhanoa have been reviewing the security situation.
Meanwhile, the Indian Army foiled an attempt by Pakistan to retaliate as the Indian forces pinned down the Pakistani spy drone in Abdasa village, in Kutch, Gujarat at night.
In an official statement by Foreign Secretary Vijay Gokhale, "In an intelligence lead operation in the early hours today, India struck the biggest training camp of Jaish-e-Mohammed in Balakot. In this operation, a very large number of JeM terrorists, trainers, senior commander & Jihadis were eliminated."
PM Modi had briefed the both the President Ram Nath Kovind and Vice-President about the aerial strike by the IAF at Jaish's terror camp in Balakot across LoC. External Affairs Minister Sushma Swaraj has called an all party meet at 5 pm today.
Also read: India: IAF air strike hit Jaish camp lead by Masood Azhar's Brother-In-Law