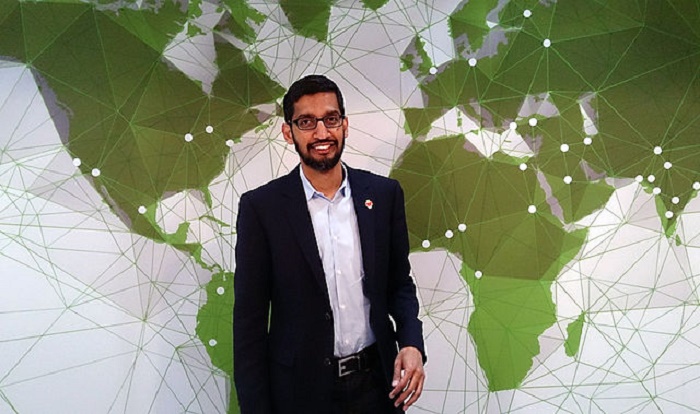 Lauding the IIT alumnus Sundar Pichai, who will be the new CEO of Gooogle under a major restructuring at the technology giant, co-founder Larry Page said it is 'time' for Pichai to take over the company's reins.
In a surprise and significant re-organisation, Page announced the formation of a new parent company Alphabet Inc which will replace Google as the publicly-traded entity and all shares of Google will automatically convert into the same number of shares of Alphabet, with all of the same rights.
Google will become a wholly-owned subsidiary of Alphabet, which will have Page as CEO and co-founder Sergey Brin as President. Pichai, 43, who was previously in-charge of product and engineering for Google's Internet businesses, will be the CEO of the "slightly slimmed down" Google.
He received a B.Tech. from the Indian Institute of Technology, Kharagpur and holds an M.S. in Engineering and Materials Science from Stanford University and an MBA from the Wharton School. He had joined Google in 2004 as its vice president of product management, where he led the team working on Google's Chrome browser and operating system.
In a blog post yesterday, Page lauded Pichai for his work at the company and said?he feels "very fortunate" to have someone as "talented" as Pichai to "run the slightly slimmed down Google and this frees up time for me to continue to scale our aspirations".
"This new structure will allow us to keep tremendous focus on the extraordinary opportunities we have inside of Google. A key part of this is Sundar Pichai," Page said.
Waxing eloquent about Pichai, Page said, "Sundar has been saying the things I would have said (and sometimes better!) for quite some time now, and I've been tremendously enjoying our work together."
"He has really stepped up since October of last year, when he took on product and engineering responsibility for our Internet businesses. Sergey and I have been super excited about his progress and dedication to the company. And it is clear to us and our board that it is time for Sundar to be CEO of Google," Page said. Pichai joins a gradually growing list of Indian-origin technology and business executives working their way up to head multi-billion dollar worth American giants.
In February last year, Satya Nadella was named Microsoft CEO, becoming the tech giant's only third chief executive after Steve Ballmer and Bill Gates in its 40-year history. PepsiCo's CEO is also India-born Indra Nooyi and MasterCard is headed by Ajay Banga. Last year, New Delhi-born Rajeev Suri was made CEO of phone company Nokia. Anshu Jain was till recently the co-CEO of Deutsche Bank.
-PTI