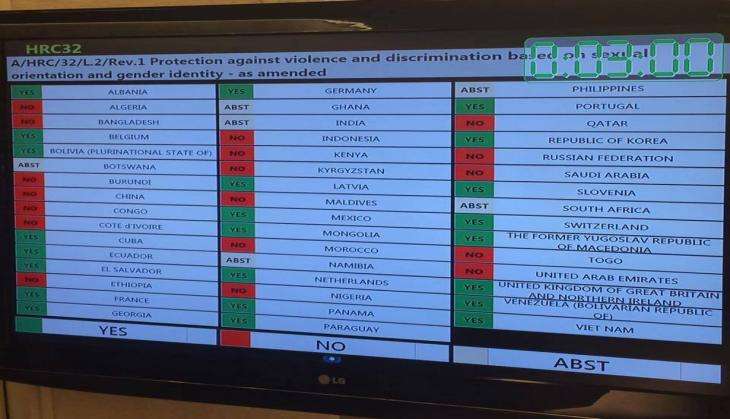 After India abstained from voting at the United Nations to create a watchdog that would safeguard the rights of the LGBT community, Vikas Swarup, the official spokesperson of the Ministry of External Affairs of India, said that India held back its vote because the LGBT rights issue is a matter being discussed by the Supreme Court.
He said, "Issue of LGBT rights in India is a matter being considered by SC; court is yet to pronounce on this issue."
Twenty-three members had voted in favour of the resolution with 18 against it. Six countries, including India, abstained from voting.
The new body would be headed by an "independent expert" who will have the responsibility of monitoring "violence and discrimination based on sexual orientation and gender identity," reported Buzzfeed.
Ever since the Orlando shooting, an increasing need was felt to protect the LGBT community from facing violence and discrimination.
Back home, India's abstaining from voting wouldn't go down well with gender activists and gay celebs who had just two days back filed a petition in the Supreme Court seeking the quashing of Section 377 of the IPC that criminalises consensual same-sex relations.
The celebrities, including chef Ritu Dalmia, hotelier Aman Nath, and dancer N S Johar, have sought protection of their sexual rights on the ground that it is an integral part of the fundamental right to life.
--With inputs from PTI