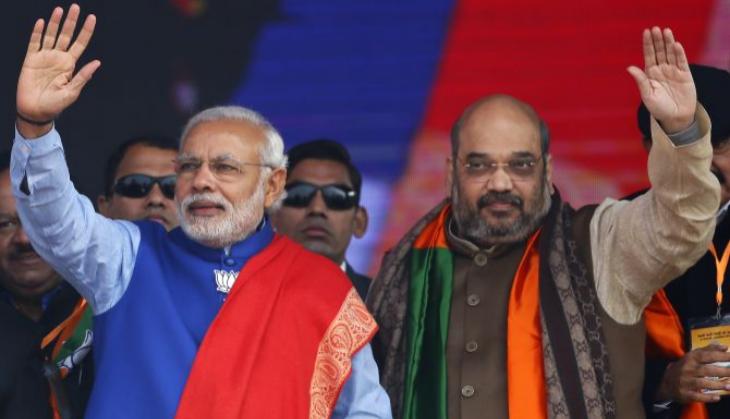 A Buddhist monk leading a team of other monks is on a six-month yatra of Uttar Pradesh, spreading the messages of the BJP to Dalits and Other Backward Classes.
The 'Dhamma Chetna Yatra' began from Sarnath on 24 April and will end on 14 October in Lucknow, where Prime Minister Narendra Modi is likely to address the monks.
The UP assembly elections of 2017 are key for the BJP's growth in India. The party won 72 of 80 seats in the 2014 Lok Sabha elections. But it needs Dalit and OBC votes to be the top party in the state, according to The Indian Express.
The yatra, led by Dhamma Viriyo Mahathera, the leader of the Akhil Bharatiya Bhikkhu Mahasangh, is meant to create awareness about Buddhism and BR Ambedkar. But BJP sources said it is being steered to focus on Modi's "messages for the Dalits and his views on Ambedkar".
The monks' vehicles carry pictures of Modi's interactions with monks and Dalits, and his visits to Buddhist temples.
"Viriyo also explains what the PM did for Ambedkar, how his government honours him, and takes care of public welfare," said a BJP leader.
Viriyo shared the dais with Modi in Mhow during the 125th birth anniversary celebrations of Ambedkar.
According to a source within the BJP, "The yatra halts at every Buddh Vihar (Buddhist temple), and Viriyo interacts with people who gather there... he talks about Modi's love for the poor." Viriyo addresses between 5,000 and 7,000 people a day, mostly Dalits and OBCs. By the end of the yatra, he should have spoken with 4-5 million people. At every halt, Viriyo reportedly donates a television set and plays a video of Modi's message for the crowd.
The yatra is focused on areas where the Mayawati-led BSP is strong. A BJP leader said: "He tells people how Mayawati used Dalits as a vote-bank but did nothing for them. She did not even visit Mhow on Ambedkar's 125th birth anniversary."