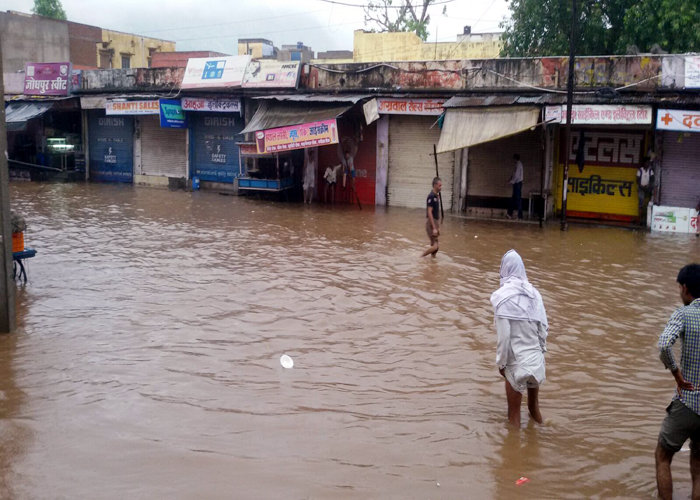 More than half of the country has received normal rainfall while some regions in central and southern parts have got deficient rains so far according to the weather office.
Of the 36 sub-divisions across the country, 20 have received normal monsoon, data from the India Meteorological Department showed.
The data showed that 58 per cent of the country has received normal rainfall, 29 per cent witnessed deficient and 13 per cent excess. Overall, a deficiency of 9 per cent was recorded in the whole country.
Among the four divisions, northwest received the most rains with only two per cent lesser than the normal levels followed by a deficit of six per cent in the east and north east, 11 per cent in central India and 20 per cent in southern peninsula. In a positive sign, no sub-division has recorded "scanty" or "no-rain" precipitation.
Sub-regions like Assam, Meghalaya, Arunachal Pradesh, Sikkim, Jharkhand and Bihar, Uttarakhand, Himachal Pradesh, Jammu and Kashmir and east Rajasthan, Odisha, east Madhya Pradesh, Gujarat, Vidarbha, Chhattisgarh, Andaman and Nicobar Islands, coastal Andhra Pradesh, Tamil Nadu and Pondicherry, Lakshadweep and south interior Karnataka have received normal rainfall.
At least 13 sub-divisions especially in the southern peninsula and central India, have been left wanting for more showers. With a deficiency of 44 and 46 per cent, north interior Karnataka and Marathwada region of Maharashtra have been the worst affected in the country so far.
The rainfall deficit in Central Maharashtra was 36 per cent, Konkan and Goa 33 per cent, eastern UP 34 per cent, Punjab 31 per cent, Kerala 30 per cent, western UP 29 per cent, coastal Karnataka 26, Haryana, Chandigarh, Delhi 25 per cent, Telangana 22 per cent and the Rayalseema region of Andhra Pradesh 21 per cent.
North-eastern states of Nagaland, Manipur, Mizoram and Tripura have recorded a shortfall of 28 per cent till now. Only three sub-divisions in the country - Gangetic west Bengal (32 per cent), west Rajasthan (76 per cent) and west Madhya Pradesh (35 per cent) have witnessed excess rainfall.
The weather office has forecast a "deficient" monsoon this season with the shortfall expected to be about 12 per cent across the country. Of the two months of the season, June has received excess rainfall of 16 per cent while July witnessed deficient rainfall of minus 17 per cent. August too is expected to bring in a deficiency of 10 per cent rainfall.
-PTI