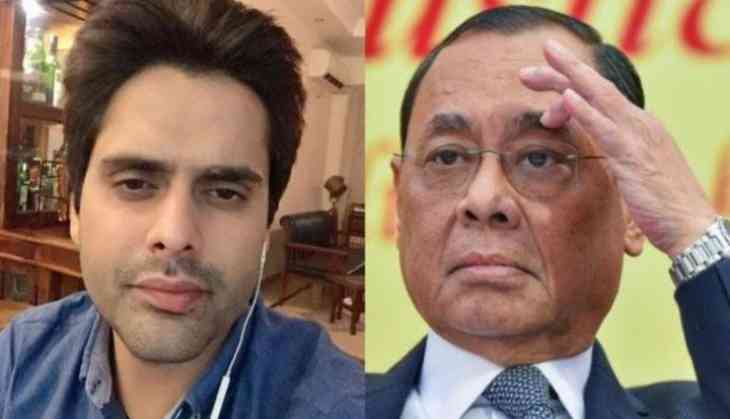 Utsav Bains and CJI Gogoi
After a former Supreme Court employee alleged serious allegations of harassment against Chief Justice Ranjan Gogoi, a new twist in the tale has come forward wherein a lawyer of the apex court has claimed that he was offered frame CJI.
Utsav Bains, a Supreme Court lawyer has claimed in Facebook post that he was offered Rs 1.5 crore to help frame the Chief Justice in the sexual harassment case. Bains has said that the person who has offered him the bribe is a relative of the woman who accused Asaram Bapu of rape charges.
The lawyer has said that the unidentified man met him at the Press Club of India and asked to represent the former staffer of the apex court in the case and to "frame" Chief Justice thereafter.
In a Facebook post, Utsav Bains said, "I was offered bribe to help frame CJI in the sexual harassment case by lawyering and organising a press conference against the CJI for the ex-SC staffer who has accused the CJI of sexual harassment just a few days back and also specifically asked to organise a press conference only at the Press Club of India."
Hours after allegation against Ranjan Gogoi, the Supreme Court lawyer posted on Facebook and irked a row. Bains is known for contesting case of a victim in the Asaram Bapu rape case.
Ranjan Gogoi had clarified that it is an attempt to malign the judiciary and added that "All I would like to say is this undoubtedly -- every employee is treated fairly and decently. This employee was there for a month and a half. Allegations came and I didn't deem it appropriate to reply to the allegations."
Also read: No alliance in Delhi as Congress declares candidates; Sheila Dikshit vs Manoj Tiwari on board