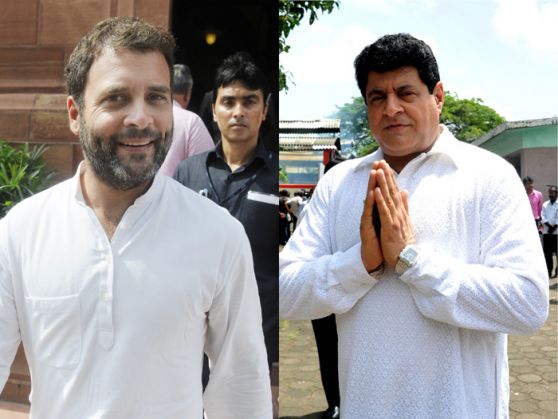 Congress vice-president visited the FTII campus on 31 July to express his solidarity with students demanding the removal of Gajendra Chauhan as the institute's chairperson. During his more than 30-minute interaction with the students he said: "You are taking somebody who is mediocre and putting them on top of somebody who doesn't want to be mediocre"
Gandhi assured the students that he is ready to back them in their protests. "The real question is, how strongly are you willing to fight this issue?", he asked them.
Read more: FTII row: Find out who all the I&B ministry rejected before Gajendra Chauhan was chosen
He accused the government of indulging in a systematic attack on all educational institutes.
He talked about the RSS, implying the government was acting on the directions of the Sangh. In one of his sharpest attacks on the Sangh, the Congress vice-president said that the "RSS promotes mediocrity".
Read more: #FTII row: Sudhir Mishra, Amol Palekar and Rajkummar Rao back students' protest
Gandhi also targeted the government saying that it doesn't have the fundamental understanding that educational institutes are made not by buildings but by students and teachers. "They think that they have all the knowledge and you are here to just absorb the knowledge they give you," he said.
Students told Gandhi that they are being called anti-nationals or naxals for opposing the government's appointment and resisting "saffronisation". They urged him to take up the issue in Parliament.
Read more: Anand Patwardhan: FTII chief Chauhan was an actor in semi-porn films
Reacting sharply to Gandhi's meeting with the students, actor turned politician Paresh Rawal said, "Now he has got an issue, he will cash in on it. But if FTII students think Chauhan doesn't have any credentials, do they believe that Rahul Gandhi is a great filmmaker? "
Speaking to news channel NewsX filmmaker Shyam Benegal, said the issue has become too politicised and it is in the student's interest to speak to Gajendra Chauhan and end the deadlock.
FTII students have been striking for 50-days protesting the appointment of Gajendra Chauhan as the chairperson on the ground of questionable credentials.