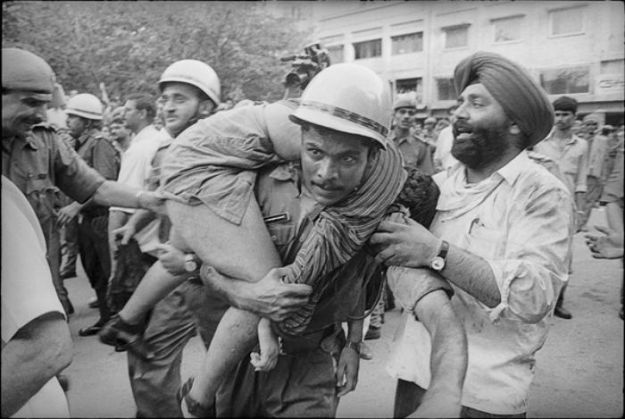 Is this an easy escape for the Ansal brothers?
The Supreme Court's verdict in the Uphaar cinema fire case obligates us to ask this question. The apex court on 19 August allowed businessmen Sushil and Gopal Ansal, convicted in the case of a fire at a cinema hall they owned in which 59 people died and 109 were injured, to walk free with a fine of Rs 60 crore.
The brothers were also awarded a jail term for a period they had already spent in prison. The Rs 60 crore fine that they will deposit with the Delhi government, is just a fraction of their huge real estate business. The fine will be used to set up a trauma centre in the capital.
Sushil Ansal spent over five months in prison, Gopal four months. The court bench rejected the submissions of senior advocate Harish Salve, appearing for the CBI, that the convicts serve out their remaining jail term.
Senior advocate KTS Tulsi, who represented the Association of Victims of Uphaar Tragedy (AVUT), also said that the convicts should not only be jailed, but have their punishment enhanced.
Here's a timeline of the Uphaar tragedy case.
13 June 1997: A renovated Uphaar cinema opened to the public. A sudden fire started by a faulty transformer during the screening of the film Border led to a stampede inside the theatre. Fifty-nine people suffocated to death, while 109 survived with injuries. Oil had also leaked and the fire spilled over to the parking lot, gutting 27 parked cars.
22 July: Uphaar theatre owner Sushil Ansal and his son Pranav were arrested in Mumbai.
24 July: Probe transferred from Delhi Police to Central Bureau of Investigation (CBI).
15 November: CBI files chargesheet against 16 accused, including theatre owners Sushil and Gopal Ansal.
10 March 1999: A sessions court presided by L D Malik initiates trial.
27 February 2001: Court frames charges against accused under various sections, including sections 304 (culpable homicide), 304 A (causing death by negligent act) and 337 (hurt) of the IPC.
23 May: Recording of prosecution witnesses' testimony begins.
4 April 2002: Delhi High Court asks trial court to try to wrap up the case by 15 December.
27 January 2003: Ansals' plea seeking repossession of the theatre rejected on the grounds of preserving evidence.
24 April: Delhi HC awards Rs 180 million compensation to be paid to relatives of victims.
4 September 2004: Court starts recording statements of accused.
5 November 2005: Recording of testimonies of defence witnesses begins.
2 August 2006: Court concludes recording of testimony of defence witnesses.
9 August: Additional sessions judge Mamta Sehgal inspects the theatre.
14 February 2007: Accused start advancing final arguments.
20 August: Senior advocate Harish Salve appears for CBI and advances final arguments.
21 August: Association of Victims of Uphaar Tragedy (AVUT) approaches Delhi HC seeking conclusion of trial within a time frame.
21 August: Judgement reserved. Court fixes September 5 for pronouncement of verdict.
5 September: Court defers pronouncement of verdict, fixes date of judgement for 22 October.
22 October: Court fixes 20 November as date of verdict.
20 November 2007: Court convicts all 12 accused, including Sushil and Gopal Ansal, in the case and sentences them to two years imprisonment.
4 January 2008: Delhi HC grants bail to Ansal brothers and two other accused.
11 September: Ansals sent to Tihar Jail after Supreme Court cancels their bail.
17 November: Delhi HC reserves order on appeals filed by Ansals, other accused, CBI and AVUT.
19 December: Delhi HC upholds trial court order convicting Ansal brothers but reduces their sentence from two years to one year. Upholds conviction of six out of 12 accused.
30 January 2009: SC issues notice on petition filed by AVUT for enhancement of sentence of Ansal brothers and alteration of charge. SC also issues notice on plea of Ansals and others challenging their conviction.
2009: CBI files appeal in SC seeking enhancement of sentence of Ansals.
17 April 2013: SC reserves order on appeals of Ansals, CBI and AVUT.
5 March 2014: SC upholds conviction of Gopal and Sushil Ansal but refers the matter to three-judge bench on the issue of quantum of punishment due to difference in opinion.
26 March 2014: Sushil Ansal leaves India without Supreme Court's permission. Apex court expresses displeasure, but allows him to stay abroad on medical grounds with an assurance to return on 11 April.
19 August 2015: The Supreme Court acquits the Ansal brothers and asks them to pay a fine of Rs 60 crore.