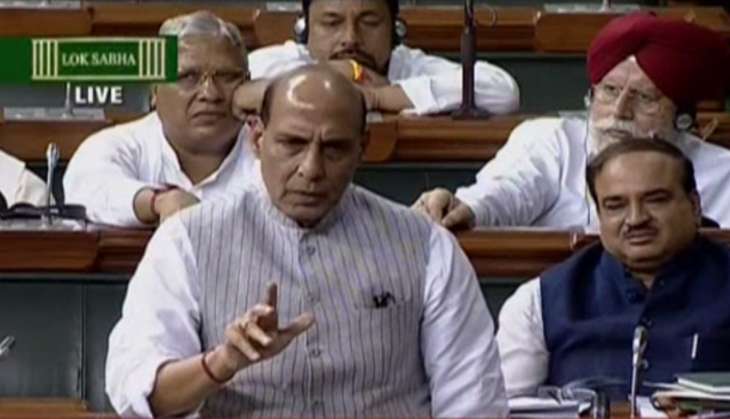 Following reports of media blackout of his speech and his skipping the lunch in Islamabad hosted by his Pakistani counterpart, Home Minister Rajnath Singh, who returned from Islamabad on Thursday evening after attending the seventh SAARC Home Ministers conference, will make a statement in the Parliament.
The highlight of the meeting was his terse message to Pakistan in his SAARC speech on terrorism. Singh launched a veiled attack on Pakistan, saying mere condemnation of terrorism and individual acts by terrorists was not enough. He categorically stated that there is no good or bad terrorist. Singh said that strongest action should be initiated not only against terrorists but also against organizations, individuals and nations supporting terror.
However, Singh's speech during the meet was blacked out. Members of the Indian media, who had come from New Delhi to report on the conference, were not allowed to cover the speech. They were reportedly kept at a distance by Pakistani officials. Some reports said that there was an aggressive verbal exchange between officials of the two sides over the issue. Only Pakistan state PTV was allowed to cover introductory speeches of Pakistani Prime Minister Nawaz Sharif and Interior Minister Chaudhary Nisar Ali Khan. Even private Pakistani media was not allowed to cover the event.
Media reports also said that his scheduled news conference at Delhi airport had been cancelled. Singh arrived in Islamabad on Wednesday amid protests by supporters of the Hizbul Mujahideen and the Harkat ul Mujahideen. The protests were held at a distance of about 10 kilometers from the National Assembly. Hizbul Mujahideen chief Syed Salahuddin was also present during the protests.
The report of blackout was dismissed by India. The Indian Express reported quoting government source: "It is the standard SAARC practice that the opening statement by the host country is public and open to the media while the rest of the proceedings are in camera, which allows for a full and frank discussion of issues."
In another hitch, Singh skipped a lunch hosted by his Pakistan counterpart Chaudhry Nisar Ali Khan in Islamabad.
Khan had organised the lunch for the visiting dignitaries, who were in Islamabad to attend the 7th SAARC Interior/Home Ministers' conference, and had scheduled it after the main meeting.
However, the Pakistan Interior Minister left the venue immediately after the meeting got over despite being the host of the lunch. Mr Singh then took the decision to skip the lunch.
The Home Minister later had his lunch at his hotel room along with the members of the accompanying Indian delegation.
With inputs from PTI