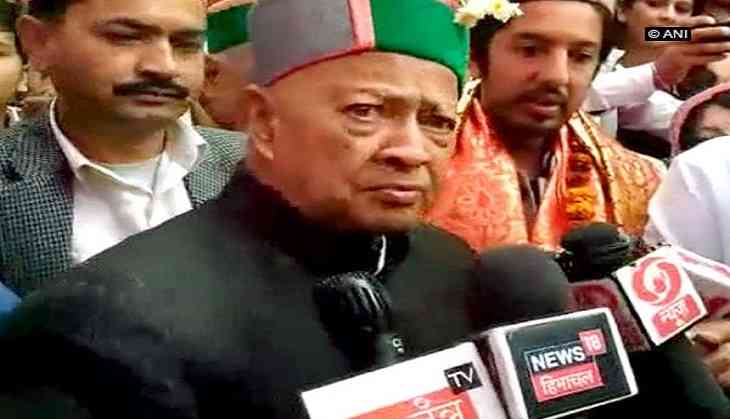 Himachal Pradesh Chief Minister Virbhadra Singh on Wednesday taunted Prime Minister Narendra Modi over the announcement of Prem Kumar Dhumal as the Bharatiya Janata Party's (BJP's) chief ministerial candidate for the upcoming state assembly elections.
He was talking to media after releasing the Congress' election manifesto.
When asked about Dhumal, Virbhadra said, "Big titans (Prime Minister Narendra Modi) have gone, and Dhumal ji is a known face."
Since Prime Minister Modi assumed power at the Centre, the BJP has been mainly fighting various elections in his name.
Earlier, Vikramaditya Singh, Virbhadra Singh's son, also said that announcement of Dhumal's name as BJP's CM candidate shows that the party is on the back foot in the state.
"Till yesterday, the BJP leaders were saying that they didn't want a face in the state as they were banking upon the popularity of Prime Minister Narendra Modi, but when they realised that the Congress party has an edge over many issues, especially, Goods and Services Tax (GST) and demonetisation then they have announced name of Dhumal so that after the defeat he should be made scapegoat. This shows that the BJP is on the back foot in Himachal Pradesh," Vikramaditya said.'
He also said Prime Minister Narendra Modi's seven election rallies in a small state like Himachal Pradesh shows that there is a discomfort in the BJP camp over the popularity of Virbhadra Singh in the state.
Vikramaditya is making debut in electoral politics as he has been fielded by the Congress from his father's constituency in the state assembly elections slated to be held on November 9.
BJP President Amit Shah on Tuesday announced former Chief Minister and Leader of Opposition in Himachal Assembly Prem Kumar Dhumal as party's CM candidate.
Results of the 68-member Himachal Pradesh Assembly will be declared on December 18.
-ANI