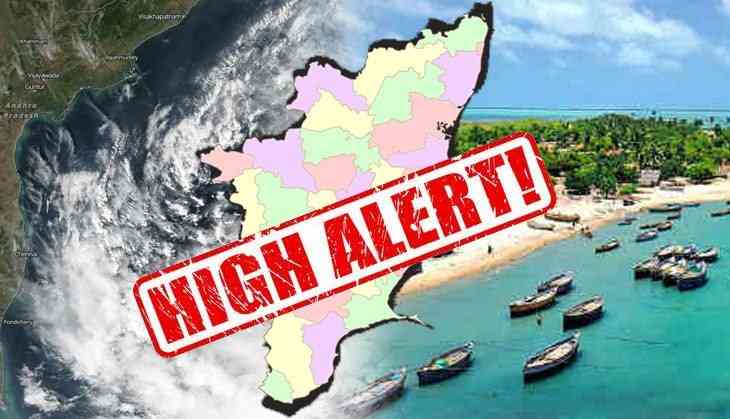 It's a high alert for Tamil Nadu citizens as the cyclone 'Gaja' all set to arrive in the state today and will bring a destruction to the state. As per the reports, the Cyclone will make a landfall between Cuddalore and Pamban on Thursday evening and will bring a heavy rainfall to Tamil Nadu, Andhra Pradesh and Puducherry.
The Indian Navy has been put on high alert and is all set to provide all the necessary help to the state.
As per the Navy officials, 'two Indian Naval ships -- Ranvir and Khanjar -- are standing by to proceed to the most affected areas to undertake humanitarian aid and distress relief.'
Due to the high alert, schools and colleges remained closed today in Rameswaram, said ANI reports.
#TamilNadu: All schools and colleges in Rameswaram to be remain closed in tomorrow. #CycloneGaja

— ANI (@ANI) November 14, 2018
To escape and to provide help during any calamity, helicopters, Dornier aircraft and one P8I aircraft are also on standby.
Also, the India Meteorological Department officials had warned storm surge of about 1.0 metres likely to inundate low-lying areas of Nagapattinam, Thanjavur, Pudukkottai and Ramanathapuram districts of Tamil Nadu and Karaikal district of Puducherry at the time of landfall.
Meanwhile, Cyclone Gaja has also become the topic of discussion on social media as well.
Check out what conversations are going on:
20181111:0730
Higher chances are ahead for landfall at #chennai on 16-11-2018 early morning. The system is expected a drift in the next 24 hours and after this crucial move we can confirm the projected track with 80-90% confident.#CycloneGaja #invest90w pic.twitter.com/67MwhEAdLD

— Vijay (@VjEngr) November 11, 2018
#CYcloneGaja there ll be some delay in landfall. Moving very slow. wind speed is 40knots/h#Cyclones #Gaja pic.twitter.com/RL4seBe0NI

— ANAND (@anandkso) November 14, 2018
#COMK Special #CycloneGaja Update - 15/11 7:30 AM#Gaja now in the range of #Chennai Radar. We can track the movement of #Gajacyclone on realtime basis from now on as it barrels towards the coast of #TamilNadu About 300 kms E/NE of #Karaikal at 7:00 AM. Moving in a SW direction pic.twitter.com/gTkXqlxqE9

— Chennairains (@ChennaiRains) November 15, 2018
#cyclonegaja will have high intensity than cyclone vardah in Chennai.

— Srigandan Raja (@srigandan_raja) November 13, 2018
#CycloneGaja Entire Central and South TN ,Western Ghats #TamilNadu regions under severe rains threat! With gusts up to 60 mph! Flash floods and landslides also possible in high altitudes! Stay safe! S.Coastal TN region and #SriLanka under danger too! #chennairains pic.twitter.com/Pv9ly9oK9V

— Weatherwiz (@Weatherwiz007) November 14, 2018
Cyclone Gaja to make landfall in Tamil Nadu today; exams cancelled, Navy on high alert https://t.co/5UX6NGLdUI pic.twitter.com/HVPtCU7zSx

— Rosie Bond (@BondRosie) November 15, 2018
Watch Video:
Also read: Delhi Bawana Fire: Massive fire broke out at Delhi's Bawana industrial area; 22 fire engines rushed, rescue underway