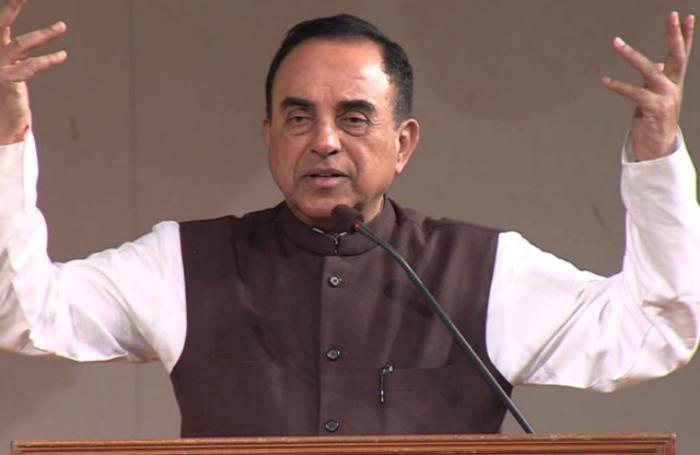 The women activists who have been trying to enter the Shani Shingnapur temple in Maharashtra have found a supporter in Bharatiya Janata Party (BJP) leader, Subramanian Swamy.
Adding support for the activists who were stopped from entering the temple in Ahmednagar district on Tuesday, the leader, who had earlier backed culture minister Mahesh Sharma's claim that the "idea of night out for women is against the culture", said that there should be no gender discrimination in places of worship.
Interestingly, the leader spoke against those quoting from the shastras to justify such gender-based discrimination.
He tweeted:
PTs :We must support women's demand for equal rights to men's for temple entry. Any Shastra sourced discrimination is amendable. Commies no!

- Subramanian Swamy (@Swamy39) January 27, 2016
Expanding on the role of his Hindutva outfit, Virat Hindustan Sangam (VHS), he said that its purpose was to usher in Hindu Renaissance and not harp on Hindu revival.
VHS stands for Hindu Renaissance not Hindu revival.

- Subramanian Swamy (@Swamy39) January 27, 2016
Earlier, the activists of Ranragini Bhumata Brigade, led by Trupti Desai, were stopped from marching towards the temple by the police near Supa in Maharasthra. They were also detained by the police for some time but were later released.
After being stopped by the police near Supa in Maharasthra, activist Trupti Desai said that it was a black day for women as they were being stopped from exercising their rights.
Maharashtra Chief Minister Devendra Fadnavis too threw his weight behind the activists fighting to end age-old discriminatory traditions. He said:
"Indian culture and Hindu religion gives women have the right to pray. A change in yesterday's traditions is our culture. Discrimination in praying is not in our culture. The temple authorities should resolve the issue through a dialogue."
The temple drew attention in November 2015 after a woman had offered prayers at the popular shrine in 'breach' of the age-old practice of prohibiting entry for women, after which the temple committee had to suspend seven security men and villagers performed purification rituals.
The temple platform attracts millions of tourists and devotees from across the country and abroad.
With ANI inputs