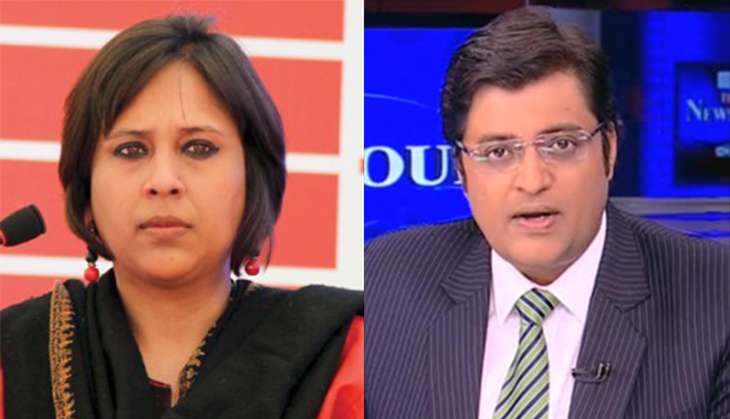 An angry Facebook post by journalist Barkha Dutt directed at fellow journalist and Times Now Editor in-chief is going viral.
This is a day after Goswami, in his quintessential manner, indirectly took potshots at Barkha Dutt and other journalists for taking a "pro-Pakistani" stand on the violence in Kashmir following Hizbul Commander Burhan Wani's death.
Barkha writes in her post: "Times Now calls for gagging of media & for journalists to be tried & punished. This man is journalist? I am ashamed to be from same industry as him. What's striking is his brazen and cowardly hypocrisy."
BJP spokesperson Sambit Patra also indirectly criticised Dutt and referred to an interview of Jamaat-ud-Dawa's chief Hafiz Saeed where he praises Barkha Dutt and her journalism, something Barkha Dutt rebuffed immediately.
Expressing her disgust at Goswami's allegations that a section of the media helps ISI and other terrorists and his suggestion that they must be put to trial, Dutt writes: "Imagine, a journalist actually exhorts the government to shut down sections of the media, misrepresents them as ISI agents and terror sympathisers, calls for them to be tried and acted against. And our fraternity remains locked into politically correct and timid silence. "
Wondering what got Dutt all worked up against one of her own fraternity? Here's the full text of Arnab Goswami's 5-minute monologue before the debate on "How to Deal With Pro-Pakistanis & Anti-Indian's".
Today is Kargil Diwas, the day when we remember 17 years later the valour, the sacrifice, the martyrdom and the ultimate bravery of our heroes of Kargil.
Today should also be a day when a section of pseudo liberals should ask themselves whether they have a right to comment, to speak or to write one word on the Kargil bravehearts when many of these pseudo liberals have been vilifying our Army, in abusing our Army, in pressurising our Army and our paramilitary forces operating in the most hostile of circumstances in Jammu and Kashmir day after day, weeks after weeks.
For the last three weeks this narrow but vocal section which includes vested interests in some parts of the media have been openly and shockingly trying to echo the Pakistani line. In the guise of backing Kashmiris these sections including sections of the media, are doing everything possible to support Pakistan sitting here in India and they call themselves Indian liberal and Indian media.
They are Indian psudo liberals and certainly not Indian media. They are supporting Pakistan. Directly or indirectly, they are supporting the ISI. Supporting Rawalpindi. They are supporting Hafiz Saeed. Using the death and killing as a peg they have tried to project Burhan Wani as some kind of local boy butchered by security forces.
That is the kind of fake narrative they are trying to build. These people are dangerous. They try to build a false imagery that Burhan Wani was a innocent son of a headmaster and the Indian state, cruel as it is, was at fault. What a lie. Viewers for three weeks and more you have heard this group peddle this lie.
You have heard this openly pro-Pakistan activist group openly operating out of India, carrying an Indian passport and some of them posing as some kind of journalist starting to drum up a campaign orchestrated and planned across the border for Azaadi in Kashmir. They are writing articles, they are giving interviews unstopped.
Some of these psudo journalists give away operational details of the movement, logistical deployment and the activities of our armed forces when they are taking on these terrorists, openly compromising their security. This is the same group viewers that backed those who chanted Bharat's barbadi in JNU. This is the same people, the same out of work writers who called Afzal Guru's hanging a tragedy. Viewers I am asking you on the NewsHour tonight, how long will you be silent against these elements.
Why should we be silent against these elements? Do these people compromise our national security or not? Your and my security. If they do, which we know they do, why do we let them get away? Why don't we take them on? Why don't we start exposing one by one, bit by bit, part by part but in a thought out manner, why don't we expose this pro-Pakistan lobby working in India? The pro-Pak doves stand exposed.....
Hence if in the course of the debate if we are able to prove if there are some working against national interest...supporting terrorists, supporting ISI and supporting particularly a person called Hafiz Saeed would you agree these people should be arraigned, tried and arrested.
Just not Dutt, many other journalists and prominent personalities vented their anger against Goswami's views on the show:
LK Advani is a visionary - He was prophetic about Arnab Goswami when he said, " When asked to bend, ..the media crawled"

— Tinu Cherian Abraham (@tinucherian) July 27, 2016
Bad day for Indian media. Going the way of Russia and US, where journalists call down vengeance upon one another. https://t.co/Oe0lkfSPIM

— Patrick French (@PatrickFrench) July 27, 2016
When a person calls for gagging and hounding journalists, you can be sure one thing: he is not a journalist, whatever else he is.

— Tony Joseph (@tjoseph0010) July 27, 2016
The gap between Arnab Goswami's language and that of filthy trolls is closing.

— Shivam Vij (@DilliDurAst) July 27, 2016
Arnab Goswami, do not use this nationalism rhetoric to cover up your selfish motive. The nation has seen through the agenda of your channel

— Rana Ayyub (@RanaAyyub) July 27, 2016
A bully on TV who took chamchagiri to new heights with PM interview & who has redefined jingoism: Thy name is Arnab! https://t.co/GsmBbjY6tC

— Prashant Bhushan (@pbhushan1) July 27, 2016
Read More
#JNURow: Arnab and the art of manufacturing nationalist outrage
Kashmir unrest: Why Ghulam Nabi Azad slammed Tarekh Fateh, Taslima Nasreen & TV debates