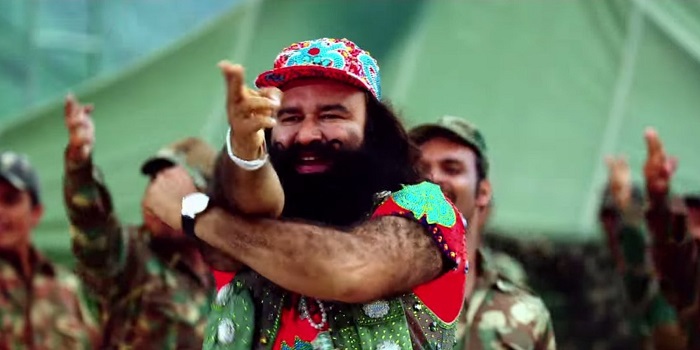 The bizarre aura around self-styled spiritual guru Gurmeet Ram Rahim Singh continues to grow, with the latest indication of his mass following being the arrest of Kiku Sharda in Mumbai by the Haryana police. A comedian, Sharda was held for imitating Gurmeet Singh - an act totally incongruous with his profession. Right?
On the face of it, the arrest may not seem to have any political connotation. But the friendly history between the guru-cum-filmmaker-cum-actor-cum-singer-cum-activist and Haryana's ruling party, the BJP, cannot be ignored.
Here are some facts:
That Sharda was held by the Haryana police comes as no surprise; Gurmeet Singh had thrown his "socio-spiritual" organisation Dera Sacha Sauda's weight behind the BJP prior to the 2014 Assembly elections in the state. With Manohar Lal Khattar at the helm, Haryana's finest are now acting as the Dera's proxy police. Consider it a gurudakshina.
Like in Haryana, Gurmeet Singh announced support for the BJP during the Delhi and Bihar Assembly polls, and consequently thousands of Dera footmen campaigned for the saffron party at those times. Those particular incursions, though, don't seem to have worked out too well.
On 15 January, 2015, Censor Board chief Leela Samson resigned after the ban she enforced on Gurmeet Singh's controversial film MSG: Messenger of God was struck down. It proved that not even a central official can dent the Sangh-godman nexus; the cost of upsetting the Dera may outweigh any other concerns even as the cost of actually watching the film may far exceed the price of the ticket.
The "guru of bling" has a clear association with the BJP. With followers running into the millions, Dera Sacha Sauda, and therefore Gurmeet Singh, wield considerable electoral influence in the country. A fact well-recognised by the political establishment and manifested in their decisions.
The Haryana BJP's weakness for Babajis has other manifestations too. The state government had offered to give cabinet minister status to Baba Ramdev last year. He declined, stating that he "wanted to remain a Baba", perhaps not realising that it was exactly what the Khattar establishment wanted him to remain - only in a political capacity.
To mix contemporary politics with a self-gratifying 'guruji' culture may seem like an obviously bad idea. In India, however, not only does the aforementioned occur but Kiku Sharda finds himself unable to mix comedy with comedy. Dissent can still be expressed - at the risk of some heavy bling to the head. That is the sauda.