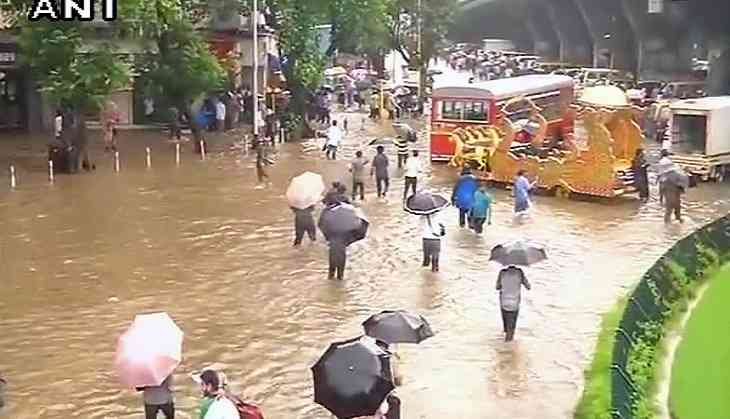 heavy showers in various regions of Mharashtra. (ANI)
As various regions of Maharashtra are receiving incessant downpour since yesterday, the India Meteorological Department (IMD) has informed that there would no relief for the state in the coming hours and heavy showers are expected to continue.
Speaking to ANI on the weather forecast, K.S. Hosalikar, Deputy Director General (western region), India Meteorological Department (IMD), said, "Presently, the rainfall recorded in the last 24 hours indicate that there has been vigorous rainfall activity over the north Konkan and the south Konkan. This is a good news that there has been a very good rainfall in madhya-Maharashtra and some stations of Marathwada. So overall there has been good rainfall in last 24 hours over the entire Maharashtra."
"There is an intense system over south west of Madhya Pradesh that is giving a lot of weather activity over the west coast that also includes the parts of south Gujarat," he added.
Discarding the current situation as similar to the July 26, 2005 rains, Hosalikar said, "July 26 has become history for the IMD and we are monitoring the current situation. Presently, the doppler weather radar is monitoring the cloud every 15 minutes and we are not getting tall clouds. The cloud height is around 6-9 km, which indicates typical monsoon."
The IMD officer has also informed that the Central India ( Gujarat, Maharashtra, Odisha, and Madhya Pradesh) is going to get very good rainfall in next two-three days and the rainfall activity will reduce thereafter.
Meanwhile the warnings issued for Maharashtra by the DDG for today and tomorrow are:
- Isolated or scattered heavy to very heavy rainfall, with isolated extremely high rainfall to occur in north Konkan.
- Warning of North Madhya Maharashtra: heavy to very heavy rainfall in 24 hours
- No warnings for Marathwada as in date.
Meanwhile, the traffic in Mumbai has come to a standstill owing to the heavy downpour. Subsequently, train services are suspended temporarily between Elphinstone Rd-Dadar on all lines w.e.f 1.30 p.m.
The famous KEM Hospital has shifted at least 30 patients to the upper wards after one of its corridors got flooded by water from the Parel Village.
-ANI