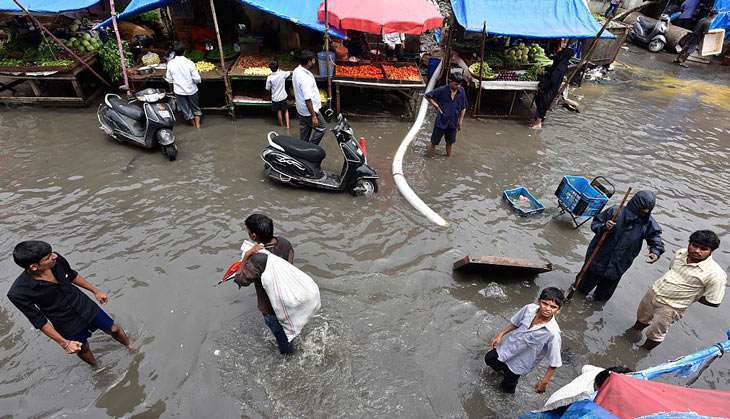 Heavy rains lashed Mumbai on 5 August, bringing life in the metro to a standstill.
All flights travelling to and from Mumbai have been suspended as have trains plying between Thane to Chhatrapati Shivaji Terminus (CST) stations.
Residents complained of severe waterlogging and heavy traffic in a number of areas across the city.
The Thane Municipal Corporation has started working on an action plan to tackle rain related crisis, the Times of India reported. The daily also reported that the Brihanmumbai Electric Supply and Transport (BEST), has diverted around 20 routes due to waterlogging at several places.
Meanwhile, the Indian Meteorological Department has forecast rain in the next 48 hours.
The Thane and Navi Mumbai municipal corporations have been warned of heavy rains, the TOI reported.
According to data from Brihanmumbai Municipal Corporation's (BMC) automatic weather station, the intensity of rains currently is 50mm per hour.
The BMC administration has asked all 24 ward-level staff to be on the field to constantly monitor the situation and stormwater pumping stations at Haji Ali, Love Grove, the recently-commissioned one at Britania, Cleve Land and Irla are also in operation, the daily reported.
Many took to Twitter to share photos and updates about the rainy day. Take a look:
Traveling is so fun #Friday #mumbairains pic.twitter.com/H9P2TmqTzX

— A.B.Y (@bombayMalayalee) August 5, 2016
It is raining so heavily this year but we have enough systems to conserve water? Or else next year we will cry for water #mumbairains

— Nitin sheth (@nitinshet) August 5, 2016
Photo: Getty Images
@Mumbaikhabar9 @RidlrMUM @LocalPressCo @hashmumbai #mumbairains #Sion Full lane closed near PVR Sardar Nagar pic.twitter.com/ijY4VTt6bo

— Naveen K (@sunsetsafari) August 5, 2016
#MumbaiRains 🙏☔️☔️☔️☔️☔️ pic.twitter.com/c9wZwxjjD1

— BOSS is BACK (@ImSunilCherry) August 5, 2016
Getting more & more foggy & seriously...I am LOVIN It #mumbairains pic.twitter.com/QN5cqt00RD

— Tanzuh (@tanzuhful) August 5, 2016
Scenes at Sion Station #MumbaiRains @RidlrMUM pic.twitter.com/4PBEk9uZJX

— CentralRailway (@CRailwayMumbai) August 5, 2016
All the Gurgaon tweets from 2 weeks ago are being dedicated to Mumbai today #mumbairains

— Ms. Mulholland (@horrorscopy) August 5, 2016