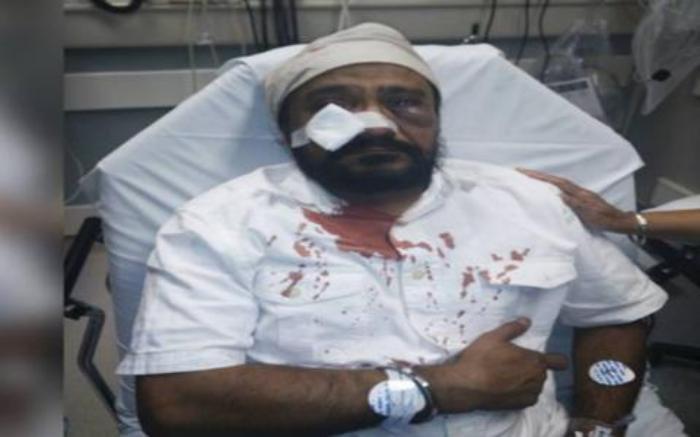 In yet another case of hate crime against an Indian in the US, an elderly Sikh-American man was brutally injured and allegedly called a "terrorist" and "Bin Laden".
The suspect has been held.
Inderjit Singh Mukkher was assaulted on 9 September, two days before the US commemorates the anniversary of the September 11 attacks. The accused allegedly pulled up to his car yelling racial slurs, including, "Terrorist, go back to your country, Bin Laden!"
A community-based organisation Sikh coalition who are campaigning against the brutal attack wrote on its website:
Mr. Mukker, a U.S. citizen and father of two, was on his way to the grocery store on S. Cass Avenue when the verbal taunting was initiated. Mr. Mukker turned onto Cass Avenue, but was repeatedly cut off by the driver. Mr. Mukker pulled over to the side of the road to let him pass, but the driver instead pulled in front of his car and aggressively approached Mr. Mukker's vehicle. The assailant then reached into the car and repeatedly punched Mr. Mukker in the face, causing him to lose consciousness, bleed profusely and suffer a fractured cheekbone and a laceration to his cheek. He was rushed to the hospital, where he received six stitches, treatment for lacerations, bruising and swelling. The suspect is in custody.
He was later taken to the hospital where he received six stitches, treatment for lacerations, bruising and swelling.
"We believe Mr. Mukker was targeted and assaulted because of his Sikh religious appearance, race or national origin," said the Sikh Coalition's Legal Director, Harsimran Kaur.
Representatives of the Sikh body say the attack follows a similar pattern wherein there is a surge in hate crimes against the the people of the community on the eve of the 9/11, "Last August, Sandeep Singh, a Sikh father in New York City, was run over and dragged 30 feet after being called a "terrorist." In 2012, a gunman with Neo-Nazi ties walked into a Sikh house of worship (gurdwara) and shot and killed six innocent Sikh victims in Oak Creek, Wisconsin."
Also read:
Happy Birthday POTUS: Lessons for Modi from his pal 'Barack'
Mukkher on his part is happy with the swift action taken against the attacker but wants the assault investigated as a hate crime. ".Without this being fully investigated as a hate crime, we risk ignoring the horrific pattern of intolerance, abuse and violence that Sikhs and other minority communities in this country continue to face."