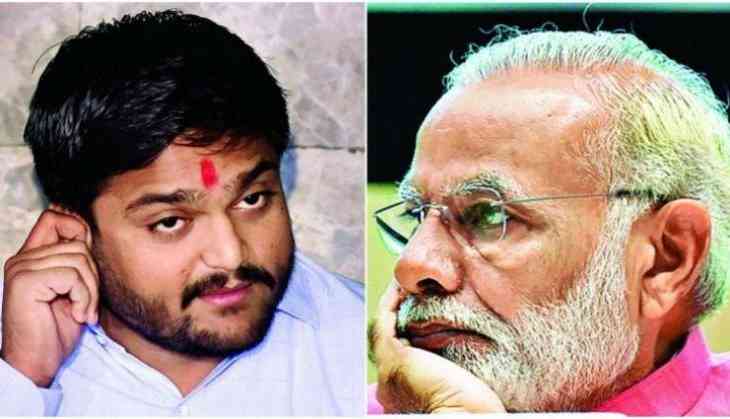 Hardik Patel and Narendra Modi
In the upcoming 2019 polls of Lok Sabha, Patidar leader Hardik Patel is likely to contest against PM Narendra Modi from Varanasi on the ticket of SP-BSP alliance as the reports suggest.
As per sources, the SP-BSP alliance are considering the name of Patel to name him against PM Modi as the candidate of Mahagathbandhan from Varanasi, although it can be a stunt by the Opposition parties ahead of the polls.
Hardik Patel, who is from Gujarat had shot to fame in 2015, when Patidars held rallies demanding reservation for their caste and challenged PM Modi's led BJP government in the state.
Earlier, Aam Aadmi Party's national convenor and Delhi's CM Arvind Kejriwal had contested upon the Varanasi seat against PM Narendra Modi and had lost by a massive 3.37 lakh votes, where Narendra Modi had secured 5,16,593 votes and Arvind Kejriwal could receive a mere 1,79,739 votes.
The SP-BSP will tomorrow announce the parties formal entry into the alliance with an eye on 2019 polls and Akhilesh Yadav-Mayawati partnership, aka the Bua-Bhatija jodi has been able to defeat the Yogi-Modi duo in Gorakhpur, Phulpur in the By-poll election.
The 2019 election will be a caste based polarized walk for the voters, who are intended to see the works of the Modi government and assess them on the basis of it.
Also read: Uttar Pradesh: Shocking! Policemen burns body with waste & keeps Rs 2,700 given for cremation; video goes