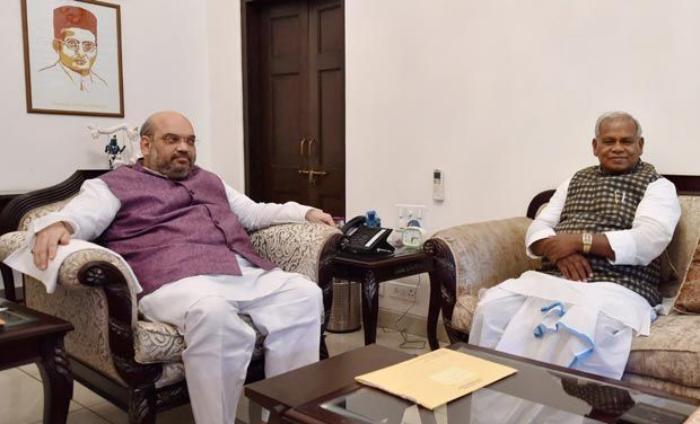 The deadlock between the Hindustani Awam Morcha (HAM) chief Jitan Ram Manjhi and the Bharatiya Janta Party (
BJP
) over seat-sharing in the Bihar elections has reportedly come to an end after Manjhi met Amit Shah at his residence in Delhi today.
Meeting at Amit Shah's residence ends, Manjhi and Shah share sweets. #BiharPolls pic.twitter.com/FooRF4Apv8

— ANI (@ANI_news) September 14, 2015
Earlier, reports of a stalemate between Manjhi and the BJP over the sharing of seats surfaced in the media, which were played down by Manjhi. "There is no confusion, everything is sorted," Manjhi said.

However, the final formula which has been offered to Manjhi is still unclear.
The BJP is likely to announce its seat-sharing formula by 1 PM today.
Manjhi, who was initially offered 13-15 seats, is said to have demanded as many as Upendra Kushwaha's RLSP has been offered. The BJP plans to contest around 160 seats out of 243 and offer about 25 to the RLSP and around 40 to Ram Vilas Paswan's Lok Janshakti Party, it is learnt. With these two allies agreeing to the formula, accommodating Manjhi's demand would mean a readjustment of the shares. This seems to be the reason for the stalled negotiations. The BJP, in fact, offered party tickets to five MLAs owing allegiance to Manjhi, in addition to the seats being offered to HAM.