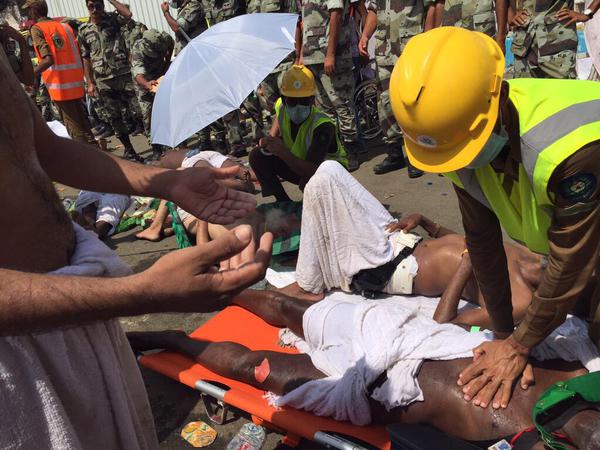 14 Indians, including a woman, were among at least 717 people killed and over 860 others injured in a stampede in the holy city of Mecca during Haj. The tragedy struck on 24 September when Haj pilgrims jostled their way to perform symbolic stoning of the devil in Mecca, marking the culmination of the annual pilgrimage.
At least 14 Indian pilgrims were among the injured in the tragedy, the second worst to occur in 25 years during the world's holiest Muslim pilgrimage.
Minister of External Affairs Sushma Swaraj confirmed the death toll.
Our Consul General Jeddah reports loss of 14 Indian lives in stampede. We have 13 injured in hospital. #Mecca

— Sushma Swaraj (@SushmaSwaraj) September 25, 2015
A sudden surge in the number of pilgrims heading to Jamarat for symbolic stoning of the devil by throwing pebbles against three stone walls resulted in the stampede at 9 AM local time (1130 IST).
The state-run Saudi Press Agency said the stampede occurred at the intersection of two streets leading to Jamarat, about five kilometres from Makkah.
The Saudi civil defence authority said that 717 pilgrims from different nationalities were killed and 863 others were injured.
It was not immediately clear what caused the stampede, the second worst after 1990 when 1,426 pilgrims were killed in a stampede inside a tunnel leading to holy sites.
The Indian Consulate in Jeddah said there were no reports of any Indian being killed in the stampede so far. However, two Indians from Assam were injured and have been admitted to hospital.
A man from Kerala identified as Mohammed from Kodungaloor in Thrissur district was among the pilgrims killed in the incident, Kerala's Rural Development and Non Resident Keralite Affairs (NORKA) Minister K C Joseph said in Thiruvananthapuram.
The deceased had gone for the Haj through a privately- sponsored group, he said.
A woman from the state was among those injured, he added.
Meanwhile, a woman pilgrim from Hyderabad identified as Bi Bi Jaan, was also killed in the stampede, S A Shukoor, special officer of Telangana State Haj Committee said.
Jaan had gone on the pilgrimage with her husband and two other relatives on September 2. She was caught up in the stampede and died at a hospital in Mina, he said.
Indian Haj mission doctors were deployed in all government hospitals in Mina and Mecca to ascertain if there were any Indian casualties, the Consulate said in a statement adding it was continuously monitoring the situation.
It said that the tents in the affected area are occupied by pilgrims from Africa and Arab countries.
(With inputs from PTI)