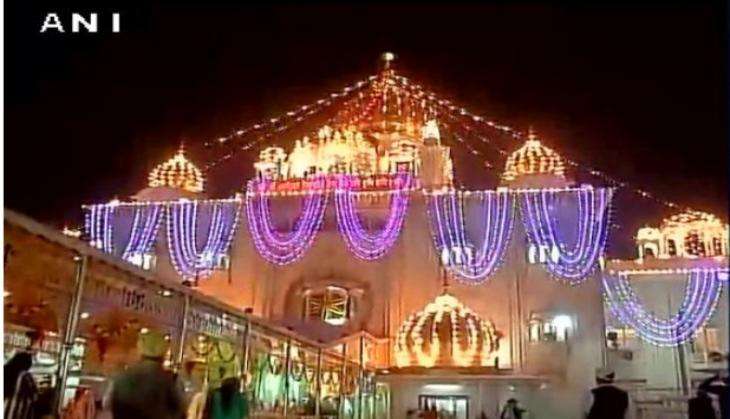 The 547th birth anniversary of first Sikh Guru, Guru Nanak Dev ji, is being celebrated with religious fervour and enthusiasm on 14 November.
It was on this day Guru Nanak was born at Rai Boi di Talwandi now known as Nankana Sahib, now in Pakistan.
President Pranab Mukherjee, Vice President Hamid Ansari and Prime Minister Narendra Modi have greeted the nation on the occasion of Guru Nanak Jayanti.
In a tweet, President Mukherjee said universal vision and humanism of Guru Nanak Devji have been an inspiration to people everywhere and may each one of us endeavor to follow the Guru's profound teachings and work to strengthen the bonds of togetherness.
In his message, Vice President Ansari said that Guru Nanak Dev Ji is an icon of truth, compassion and righteousness. He said, on this joyous occasion he prays for harmony and peace in the country.
In a series of tweets, the Prime Minister has said that Guru Nanak Dev ji always inspired people to tread on the path of happiness and unity, apart from always following the path of supreme truth.
Akhand Path Bhog of Sri Guru Granth Sahib was performed today in various Gurdwaras and Gurbani recitation is going on since early morning. Thousands of devotees have gathered at historical gurdwaras related to gurus memories since last night.
More than 1,200 Sikh pilgrims are visiting Nankana Sahib in Pakistan from India.
According to the SGPC sources devotees from various countries have reached there to pay their respects at Guru's birth place.
Devotees are attending the Gurudwaras to pay obeisance and are also taking bath in Pavitar Sarovars.
Akhand Paths are being rendered at various Gurdwaras across the Delhi.
A large number of devotees have gathered at the Gurudwara Nanak Piao Sahib, Gurudwara Sis Ganj Sahib, Gurudwara Rakab Ganj Sahib, Gurudwara Bangla Sahib and Gurudwara Moti Bagh Sahib.
--ANI