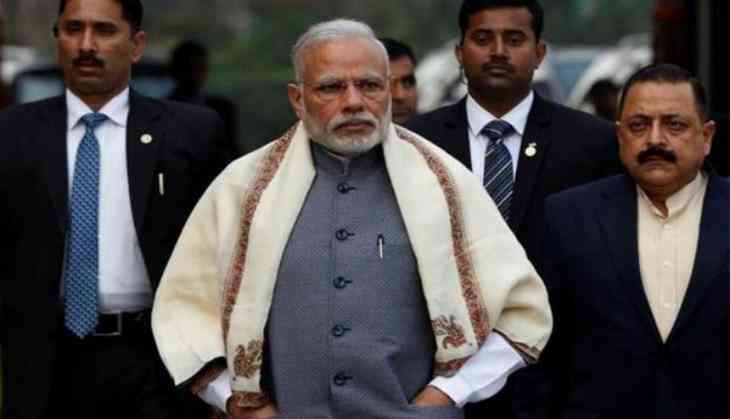 GST, doubling farmers' income on agenda as PM chairs NITI Aayog meet
Prime Minister Narendra Modi is currently chairing the third meeting of the NITI Aayog's Governing Council at the Rashtrapati Bhavan, wherein, action taken on decisions of the earlier two meetings, are being discussed in detail with a special focus on the GST and doubling the income of farmers.
The meeting is expected to continue for over six hours with more than 25 Chief Ministers focusing on big changes planned for development in the future.
NITI Aayog's vice-chairman Arvind Panagariya will present a roadmap for the rapid transformation of India by outlining key aspects of the 15-year Vision document, comprising the seven-year strategy document and the three-year action plan.
The other important issues to be discussed in the meeting today includes the progress made by the state government for implementation of the Goods and Services Tax (GST) from July 1.
PM @narendramodi is chairing the 3rd Governing Council Meet of the @NITIAayog in New Delhi. pic.twitter.com/ynYWTiIwzc

— PMO India (@PMOIndia) April 23, 2017
Cabinet Ministers, State CMs, officials, members of @NITIAayog & special invitees are attending the @NITIAayog Governing Council meeting. pic.twitter.com/tMw2lxhiRC

— PMO India (@PMOIndia) April 23, 2017
The agenda's listed for the meet are as follows:-
-Confirmation of the minutes of the second meeting of the governing council.
-Action Taken Report (ATR) on the decision taken in an earlier meeting which took place on May 8, 2015.
-Activities are undertaken by the NITI Aayog (Jan 1, 2015-Mar 31, 2017)
-Vision, strategy and action plan.
-Presentation on GST
-Digital India
-Doubling farmer's income
A presentation on the roadmap of doubling farmers' income will be made by Madhya Pradesh Chief Minister Shivraj Singh Chouhan.
The first meeting of the Governing Council had laid down the key mandates of NITI Aayog like fostering cooperative federalism by addressing national issues through mutual cooperation between the Centre and states and monitoring important central schemes.
The second meeting had outlined the substantial progress made by the three Sub-Groups of Chief Ministers and the two Task Forces one on the elimination of poverty and other on agriculture development.
-ANI