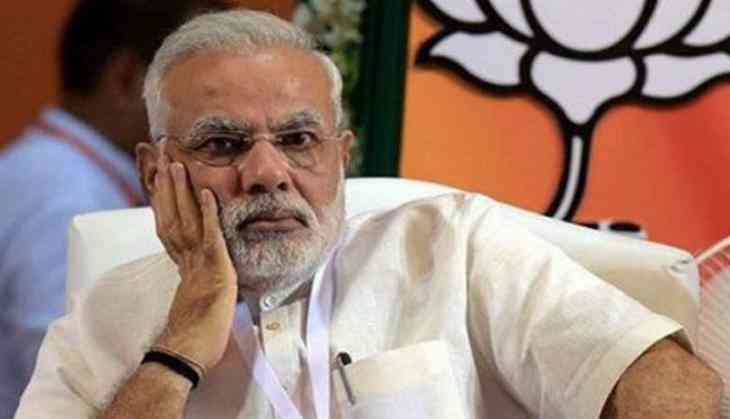 Prime Minister Narendra Modi on 7 October asserted that Diwali the 'festival of lights' has come early for citizens due to the latest decisions taken by the Goods and Service Tax (GST) Council.
"Diwali has come early for our citizens due to the decisions taken in the GST Council. We had said we will study all aspects relating to GST for three months, including shortcomings. And thus, the decisions were taken with consensus at the GST Council," Prime Minister Narendra Modi said at public rally in Dwarka.
He also said, "When there is trust in a government, and when policies are made with the best of intentions, it is natural for people to support us for the best interests of the nation. The common citizen of India wants the fruits of development to reach him or her. Nobody wants their children to live in poverty. We want to help our people fulfill that dream and we want to fight poverty," he said.
The Prime Minister said the world's attention is on India and people are coming to invest here.
"The world's attention is being drawn to India. People are coming to invest here. All this will bring opportunities for the people of India. I see Gujarat contributing actively to the development of India and congratulate the Gujarat government," he added.
Prime Minister Modi is on a two-day visit to the state.
The GST Council yesterday raised the composition scheme threshold for businesses to Rs. 1 crore, which will allow them to pay a tax of one per cent to five per cent, without having to deal with the three-stage filing process.
The decision was taken during the 22nd GST Council meeting, which was chaired by Union Finance Minister Arun Jaitley in New Delhi.
The impact of GST on trade, and its transition issues were discussed in the meeting.
The panel decided to give an option to taxpayers to avail the composition scheme if their turnover is less than Rs. 1 crore as against the previous limit of Rs. 75 lakh.
Under the composition scheme, the tax rate for traders of goods will be one per cent, two per cent for manufacturers and five per cent for restaurants and suppliers of food or drinks.
The GST Council also announced a tax relief for exporters.
"Tax refunds to exports will start from October 10. There will be a nominal 0.1 per cent GST applicable on exports," Jaitley announced in a media briefing on Friday.
Small and medium-sized enterprises (SMEs) with an annual turnover of Rs. 1.5 crore will be allowed to file quarterly returns.
"Small businesses will also have to file monthly returns for three months - July, August and September - and the switchover to quarterly filing will happen from the cycle starting October 1," Jaitley added.
"Every exporter will now get an e-wallet. In the e-wallet, there would be a notional amount for credit. The refund they will eventually get will be offset from that amount. The e-wallet will be introduced from April next year," Jaitley added.
He further said that the reverse charge mechanism for transactions between registered, unregistered business has been deferred till March 31, 2018.
Jaitley added that the pattern of collection [of the GST] is not clear after two months, because it was a period of transition.
Prime Minister Modi on Wednesday, had also assured that glitches would be fixed in an hour-long speech on the Indian economy.
-ANI