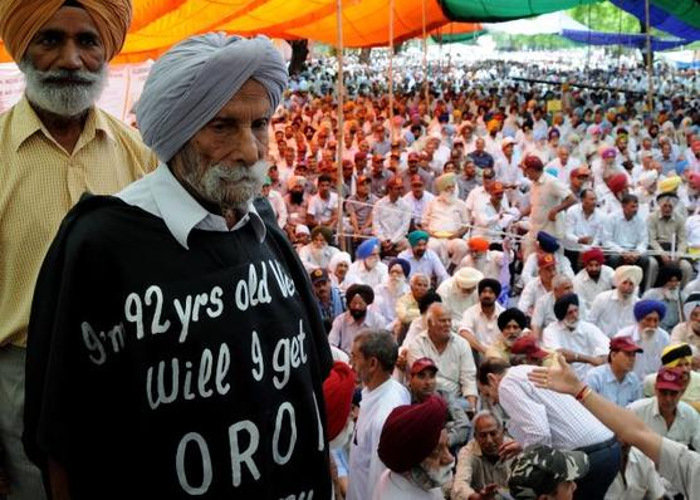 The ongoing deadlock over the implementation of the One-Rank-One-Pension policy may end as the government is likely to make an announcement on the issue today.
However, the bone of contention remains the period of revision of pension. According to reports, the government has proposed a revision every five years and an announcement. The ex-servicemen want pensions to be revised every two years.
It is understood, the government is firm on the revision issue. It will offer a revision of pension every five years and not one, or maximum two years demanded by the veterans.
Among other details, the government is willing to accept the veterans' demand that OROP be implemented from July 1, 2014, with arrears. NDTV reports that the government is planning to clear the arrears in four installments with priority being given to widows and war veterans over 70.
Speaking at Jantar Mantar, Maj. Gen. (Retd.) Satbir Singh, Chairman of Indian Ex-Servicemen Movement said they are willing to accept a revision every two years but not beyond that. The veterans have been demanding an annual revision as per the definition of OROP, which says uniform pension based on rank and length of service, irrespective of when they retire.
A judicial commission will be set up to identify other points of conflict and submit a report within six months, reported the Hindu. This pension bill will cost the exchequer around Rs. 8,000 crore annually which would compound given the frequency of revision. The current pension bill of the armed forces stands at Rs. 54,000 crore.
There are about 2.45 million veterans and six lakh war widows who stand to benefit from the scheme.