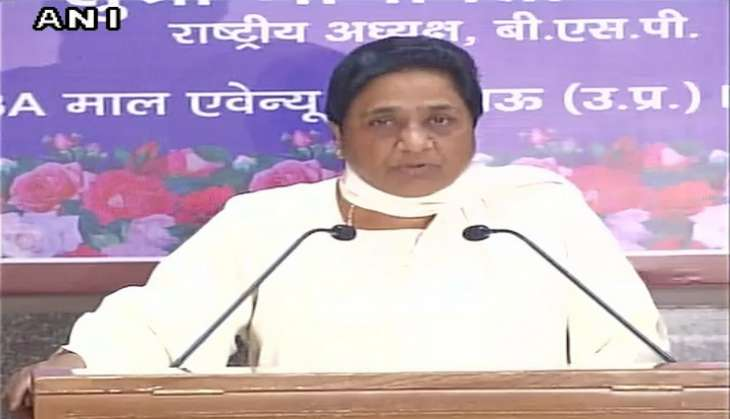 Bahujan Samaj Party (BSP) supremo Mayawati today snubbed Prime Minister Narendra Modi for addressing a party rally in Agra instead of visiting Pukhrayan in Kanpur Dehat district, the site of the rail mishap that claimed over 100 lives.
Mayawati said "Had Modiji visited the injured, it would have give them some satisfaction, but "sharing others' grief is not his nature".
"It is the BSP's firm belief that the BJP and Prime Minister Modi's good days are over, and bad days will be coming soon," said Mayawati.
"Similarly, if Uttar Pradesh Chief Minister Akhilesh Yadav, instead of making statements, had visited the accident site, it would have lessened their grief. But he too did not visit there. Any criticism would not be enough to deplore him," she said.
Stating that the BJP, which contests election on money provided by capitalists of the nation, is not going to win a single assemble election in the country, including Uttar Pradesh, BSP chief said, "The people of India, including the people of Uttar Pradesh, will take Prime Minister Narendra Modi-led BJP government to the task for implementing their demonetisation drive without any prior planning."
"Even the inaugurations and announcements made by the BJP government at the Centre now will not help them win even a single assembly election," she added.
Taking about the Kanpur rail tragedy during the launch of the 'Pradhanmantri Grameen Awas Yojna', an ambitious housing scheme for rural poor in Agra, the Prime Minister said, "This morning, there was a rail accident near Kanpur. The relief work is going on in full swing and the Centre will also investigate matter. My thoughts are with the bereaved families. I wish those injured a speedy recovery."
More than hundred passengers were killed and scores of others injured when 14 coaches of the train derailed at around 3 am near Pukhrayan, about 100 km from Kanpur.
--With ANI inputs