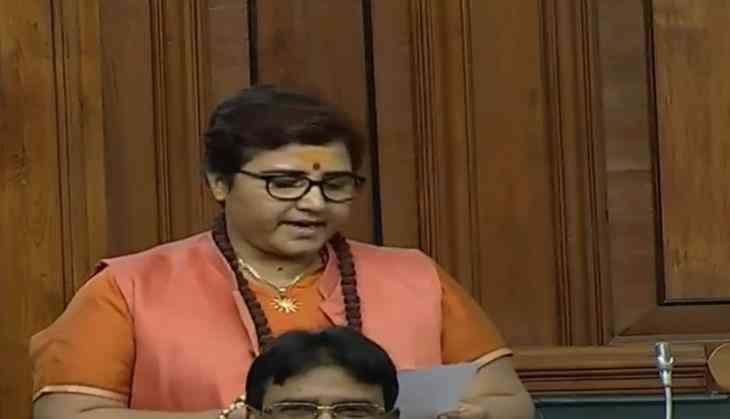 The row over BJP MP Pragya Thakur referring Nathuram Godse as 'deshbhakt' in Lok Sabha has taken a new twist now. BJP has decided to corner Congress leader Rahul Gandhi for calling Pragya Thakur a 'terrorist'.
'Rahul has insulted a woman'
BJP MP Nishikant Dubey on Friday demanded to bring privilege motion against Congress MP Rahul Gandhi for calling BJP MP Pragya Thakur a 'terrorist'. "she is a woman too and calling her terrorist is not acceptable," he added.
Attack on my dignity: Pragya Thakur
Earlier in the day, Pragya Singh Thakur also objected against the comments made by Rahul Gandhi though she didn't name him directly.
"A member of the House referred to me as 'terrorist'. It is an attack on my dignity. No charges against me have been proven in court," she said in Lok Sabha.
Pragya offers apology
While speaking on the 'patriot' controversy Pragya Singh Thakur said: "If my comments have hurt in anyway, I regret and seek an apology. My comments in the House have been twisted," she said without taking Godse's name.
Thakur also said that she respects and pays tribute to Mahatma Gandhi for his contribution to the country.
Unsatisfied with Thakur's apology, the Congress strongly protested in the House and shouted slogans.
The principal opposition party also demanded suspension of Thakur from the House.
World watching us: Om Birla
Lok Sabha Speaker Om Birla asked the political parties to refrain from turning it into a political controversy. "Not only this nation but the world follows principles of Mahatma Gandhi. We shouldn't politicise this issue (BJP MP Pragya Thakur referring to Nathuram Godse as 'deshbhakt' in LS). If we do, it'll be before the world. So I said that the remarks won't be recorded."
Also Read: Congress leader Govardhan Dangi threatens to burn alive BJP's Pragya Thakur