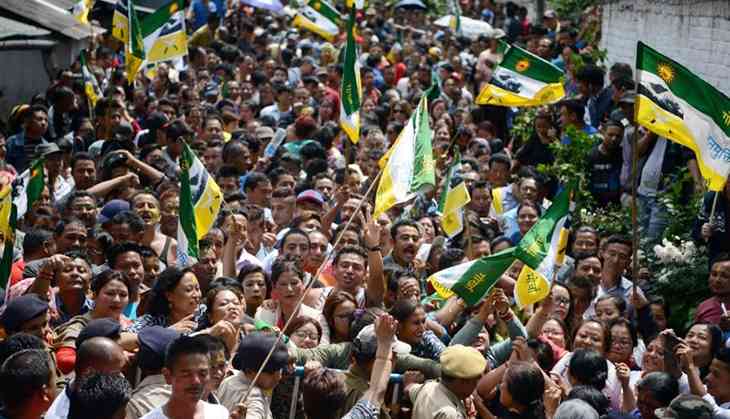 The Ministry of Home Affairs ( MHA) is monitoring the situation developing in Darejeeling, sources said.
The Gorkha Janmukti Morcha (GJM) is plying to intensify its stir over the formation of the 'Gorkhaland'.
Inculpating the ruling All India Trinamool Congress (TMC) for the ongoing protest in Darjeeling by GJM, the Bharatiya Janata Party (BJP) accused the state government of alienating the community, which results in them facing an identity crisis.
"Gorkhas belong to India, but the state government has alienated them to such an extent that they lost their belief of belonging to this country. It is the identity crisis which has initiated such violence," BJP state vice president Chandra Kumar Bose told ANI.
Bose held the state government responsible for the escalated tension in Darjeeling and said that the ruling regime cannot solve this issue by simply providing some funds and forming the Gorkhaland Territorial Administration (GTA).
GJM general secretary Roshan Giri has sought Centre's intervention in the political turmoil in the state.
Giri had said that a delegation of members of the GJM would call on Prime Minister Narendra Modi and Home Minister Rajnath Singh to apprise them about the ' Gorkhaland Movement'.
West Bengal Chief Minister Mamata Banerjee has branded the GJM protest as 'abhorrent' and appealed to the people of the region to maintain peace.
The GJM supporters are also protesting against the alleged imposition of Bengali in the schools of the hills.
The agitation arose from an announcement made by Banerjee earlier that Bengali would be taught compulsorily up to Class 10 in the state schools.
After the GJM cadres clashed with the police following their protests against Mamata's visit to Darjeeling and her decision to make Bengali compulsory in syllabus of schools across the state, the Army was called in to control the situation.
The protest led by the GJM turned violent after protesters resorted to vandalism as they torched police vehicles and attacked policemen.
-ANI