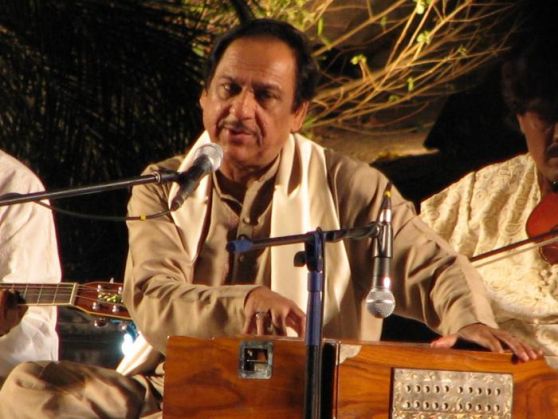 A scheduled Mumbai concert by acclaimed Pakistani ghazal singer Ghulam Ali has been called off following threats of a protest from the Shiv Sena. According to a DNA report, the cine wing of the saffron outfit met the management of Mumbai's Shanmukhanand Hall, which was to host the concert on October 9. The Shiv Sena had earlier threatened that protests would ensue if the concert was not called off.
Justifying their demands, the Shiv Sena stated that the nation needs to avoid all cultural associations with a country like Pakistan which kills Indian soldiers.
This episode proves once again that peace-building exercises between the neighbouring countries clearly does not feature in the Shiv Sena's agenda. This is not for the first time that the party founded by Bal Thackeray has protested against Pakistani nationals performing on Indian soil.
Let's take a look at some of the previous incidents:
Infiltrating the spirit of cricket
On January 6, 1999, a day before India and Pakistan were to play a Test match in Delhi's Feroz Shah Kotla Stadium, the Shiv Sena decided that the best way to prevent a cricket match was to dig up the cricket pitch. Twenty four Sena members managed to inflict enough damage to the pitch and their actions were labelled as acts of "true patriotism" by outfit chief Bal Thackeray.
No hockey with the 'enemy'
Shiv Sainiks had a huge problem with four Pakistani hockey players playing for Mumbai Magicians, an Indian Hockey League Team. So before the Pakistani players could practise with their team members on January 13, 2013, at a hockey stadium in Churchgate, about a 100 Sainiks created a huge fracas at the venue. The uproar ended with the detention of 21 Sainiks and the four players being whisked away via the rear exit.
Pakistani Sufi music is unpatriotic
Two Sufi singers from Pakistan were scheduled to perform at a Sindhi Sufi music festival on March 17, 2014. The relatively lesser known Delhi wing of the Shiv Sena thought it best to protest against the festival. Exactly a year before this incident, these Sainiks had disrupted the performance of Pakistani Sufi singer Sanam Marwi in the 2013 edition of the same Sufi music festival.
Joint concerts? Not on Shiv Sena's watch
On February 4, 2014, 50 Shiv Sena workers disrupted a press conference by Pakistani Sufi band Mekaal Hassan at the Mumbai Press Club. The Sufi rock band was going to announce a joint concert with some Indian performers. Sadly, according to reports, the Mumbai police failed to do much to control the situation and watched the scene unfold like 'bystanders.'
Ban Atif Aslam too
Singer Atif Aslam was scheduled to perform at a concert on April 25, 2015 in Pune. The concert sold over a thousand tickets. Enter the Shiv Sena, who threatened to disrupt the concert. Aslam cancelled the concert fearing the extremist outfit.