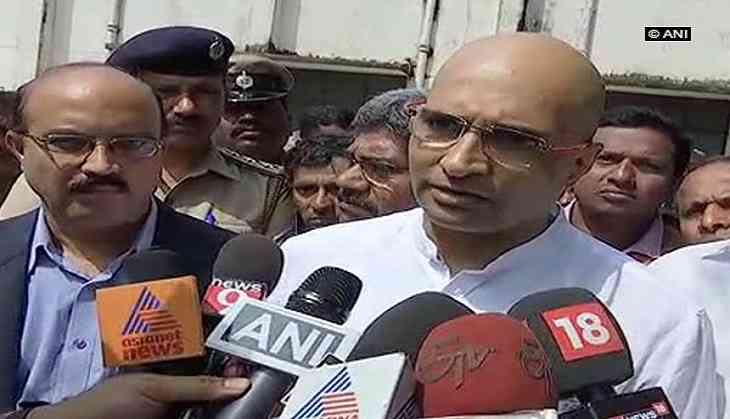 Gauri Lankesh shot dead. (ANI)
The whole incident of senior journalist Gauri Lankesh's murder was captured by two CCTV cameras outside her residence, said her brother Indrajeet Lankesh.
Gauri was shot by unknown assassins on 5 September.
Speaking to the media outside the hospital, where Gauri's post-mortem was carried out, Indrajeet Lankesh said that the CCTV has captured everything while also requesting the police to let him or his mother be present, while watching the footage.
Talking about the incident Indrajeet said that the police have told him that a lady living in the neighbouring building heard a sound, thinking it was a firecracker. "When she came, she saw Gauri lying down there."
"The place where she was living was calm and there were no street lights there. She was living alone as well," said Indrajeet Lankesh.
He also said that there is nothing that Gauri told her mother, sister or Indrajeet himself.
"She never told us if there were any threats given to her," Indrajeet said.
He further said that she was an aggressive journalist, and was doing her job.
"She's not just my sister; she's an activist, a journalist. It is disgraceful and painful for me as a brother," Lankesh said and added that he is requesting a Central Bureau of Investigation (CBI) probe, as they have seen in earlier cases as well the police has done nothing about issues like this.
He then added that the Gauri's wish has been fulfilled as "one of the patients here has got Gauri's eyes," as she had always wanted to donate her eyes.
Meanwhile, Gauri Lankesh's "adopted" son and controversial figure Kanhaiya Kumar said, "Deeply shocked and saddened at the cowardly murder of Gauri Lakesh! She was like a mother to me. She will always be alive in my heart."
Deeply shocked and saddened at the cowardly murder of #GauriLakesh! She was like a mother to me. She will always be alive in my heart. pic.twitter.com/6x4u5UaXqt

— Kanhaiya Kumar (@kanhaiyajnusu) September 5, 2017
Following the incident, major protest demonstrations have been planned across India, especially in prominent parts of Karnataka.
Senior journalist and activist Gauri Lankesh has been shot dead at her residence in Bengaluru's Rajarajeshwari Naga on 5 September.
Reportedly, she was shot by three unidentified gunmen.
Lankesh was the editor of the Gauri Lankesh Patrike, a magazine described as an 'anti-establishment' publication.
Last year in November she was convicted of defamation and was sentenced to six months in jail, after she ran a piece in 2008 that Prahlad Joshi, a BJP MP from Dharwad, and Umesh Dushi, also of the BJP, found objectionable.
However, the court also granted her bail and allowed her to appeal to a higher court.
-ANI