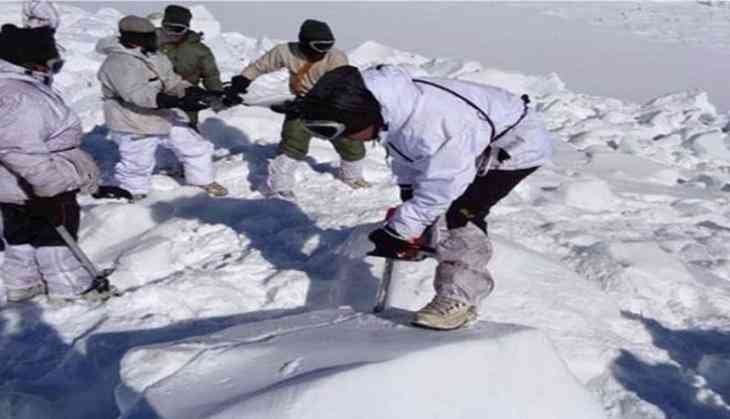 Indian army is known for the selfless attitude towards country as the soldiers protects India in every possible way. Regardless of the scorching heat or the cold, the soldiers of the army constantly fulfill duty timings and protect the country. A video of ITBP jawans has surfaced while playing volleyball at the height of 16,000 feet from the sea level. Even in the cold, soldiers never forget their priorities towards nation.
Apart from this video some pictures have also been revealed in which Indian army soldiers could be seen positioned in tough conditions.
हम दुनिया के सबसे ऊँचे पर्वतों पे हैं तैनात
हम बर्फ पे चलते कदमों कदमों सुबह शाम दिन रात

हम सरहद के सेनानी, हम सच्चे हिन्दुस्तानी

Braving all odds in the #Himalayas at 18K ft#Himveers#ITBP#HighAltitude#Mountains pic.twitter.com/taH4ALANmh

— ITBP (@ITBP_official) December 28, 2017
In Siachen, the temperature in the freezing temperature goes down to minus 50 degree Celsius. India's closest post from Siachen base camp is 'Indira Col' and it takes 20 to 22 days for soldiers to reach there. From past few days, the weather has totally changed in entire northern India and thus giving rise to cold. Heavy snowfall in parts of Jammu and Kashmir still going on.
Recently, 5 youths had disappeared due to avalanches in the Gure Sector. Later, the body of 3 soldiers was recovered. Even before this, in the beginning of 2017, 15 jawans were martyred in the Gure Sector due to avalanches.
So, in such situations it becomes hard to imagine the situation of Indian army's jawans who serve the nation round the clock in difficult conditions.
Here is the video of ITBP Jawans playing Volleyball that had gone viral on internet:
#Game of #volleyball at 16K ft #himveers #ITBP pic.twitter.com/VRN0YjeLzZ

— ITBP (@ITBP_official) December 28, 2017